April 26th, 2017 by admin
Chapter Two
Part Four
More Details
058. The best part, the bar!
058a. A photo of the VLS Production and packing team. I wanted to have a photo of all the employees, sales, accounting, art department, pulling and shipping and so on, but, unfortunately, the phones and emails and faxes never stop, so you can more than double this for the entire team in 1997.
059. Now, to the large, free standing dioramas. 88 mm revetment, Russia. A collaboration between Lewis Pruneau and Francois Verlinden. Verlinden built and painted the gun, Pruneau created the diorama. 120mm.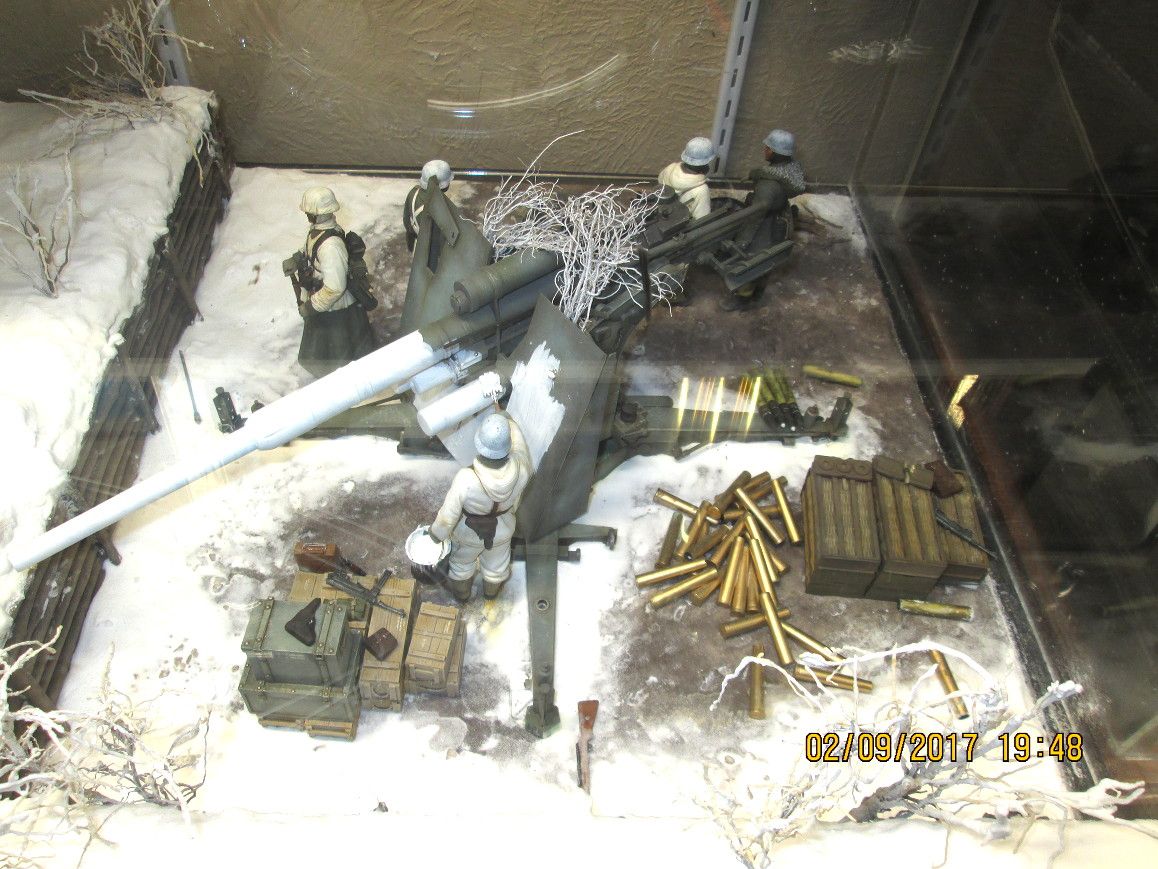 060. Pruneau's V-80 German experimental U-Boot. 1/35th scale. It has working lights and a simulated arc welding unit with sound and light.
061. Another angle.
062. "Knight takes King's Bishop". I built this back in 1986. The setting of "Knight takes Kings Bishop was 1982. On June 3rd, the ABU-Nidal faction, a radical Palestinian terrorist group, attempted to assassinate the Israeli ambassador to the U.K. in London. The Israelis responded with attacks against Palestinian terror targets in Beirut. The Palestinians launched barrages against Galilee. In June of that year, the Israelis sent 60,000 troops into Lebanon. This dio is set in Sultan Yackoub during that campaign. The Isaelis are salvaging a SSNP, (Syrian Socialist National Party) Soviet made BTR-60. The Israeli Defense Force salvages all captured equipment and uses them for parts or re-fitting.
063. "Lost Cause" is based on "Operation Market Garden" I started on what, for me, was a small diorama. A Bridge Too Far was a recent hit at the movies, so, I decided on something British. I had a Canadian CMP, (Canadian Military Pattern), C-60L mobile workshop I had built four years earlier. I also had a Daimler Dingo built in '84 that I used. Both these vehicles have an SBS on other threads in this forum.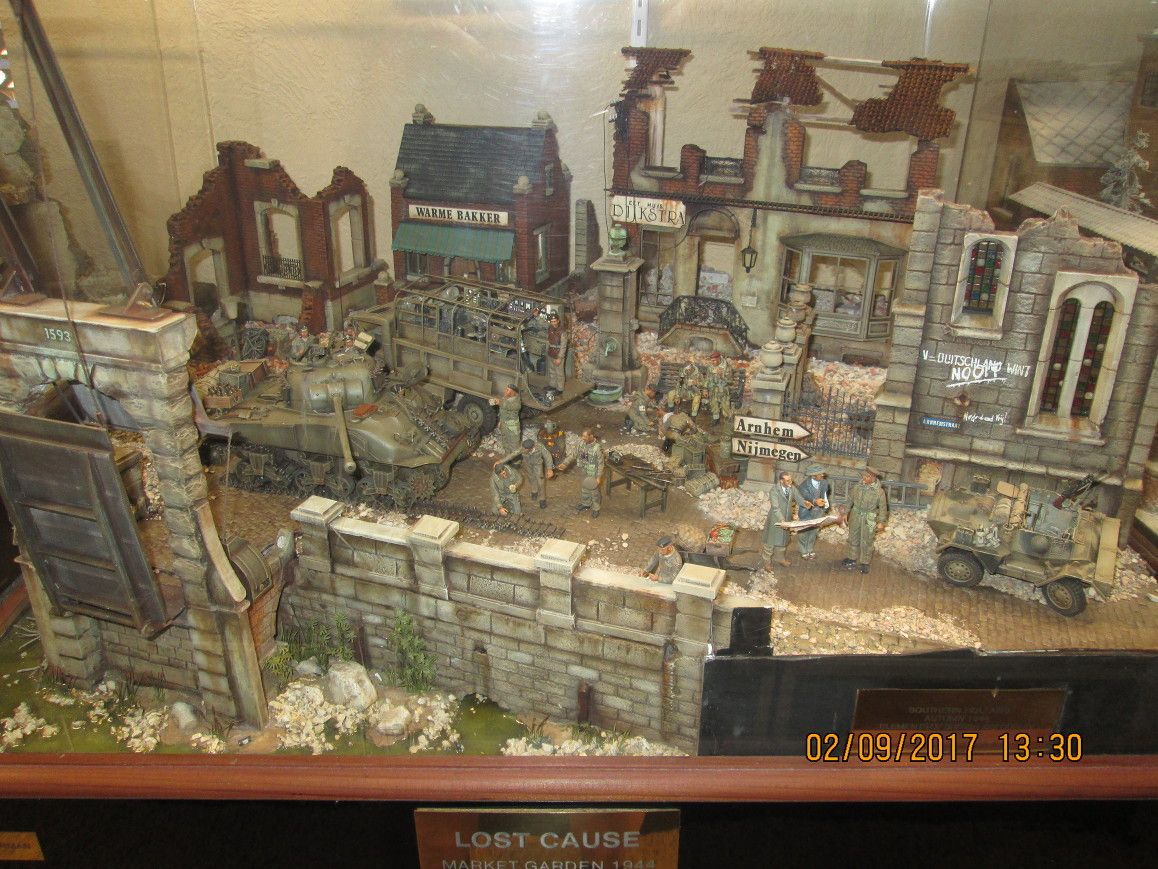 064 When I was running VLS, I was concerned that we were getting so many of the ruined plaster buildings returned due to broken parts. I had this idea to use nothing but returned kit parts to build a diorama. Then the customers would realize that plaster is very fragile, and I have never seen any company's plaster kits that didn't arrive broken through the mail or other carriers, but….. with a little white glue, the kit is fixed and ready to begin building!. So, that is how this project got started. I set out to build a castle in the general Bastogne, Belgium area. The castle turned out like this. Every single part of tis building except the roof, the windows and the German insignia came from the returned kits pile. I used both German and American figures. Here we see Germans, dressed as G.I.s taking instructions on American weapons. Behind them is a captured Deuce and a Half, restored to running condition. The snow was made using a dozen coats of hair spray, then dusting with thermo-plastic micro balloons. We sold that stuff in the Techstar line as model snow. It is a pain to apply because the material is extremely fine, but the effect is worth the effort. You can get a dusting of snow all the way to a heavy layer by increasing the number of applications. I called it Masquerade!
065. I called this one "Arrogance" I wanted to depict Goering and the generals on the Channel coast during the failed attempt to invade England. (Operation Sea Lion) This was at a point in WW II that the Germans and the allies both were under the illusion of the German invincibility. The two vehicles are the VP Kubelwagon and the VP Panzer II. This dio is in 120mm. The third vehicle is a 1/16th Mercedes two seater sports coupe. I extended it and made it a four seater so it could become a staff car. I used a stone wall to replicate a "Lookout turnoff with a view of the channel. It is 120mm scale.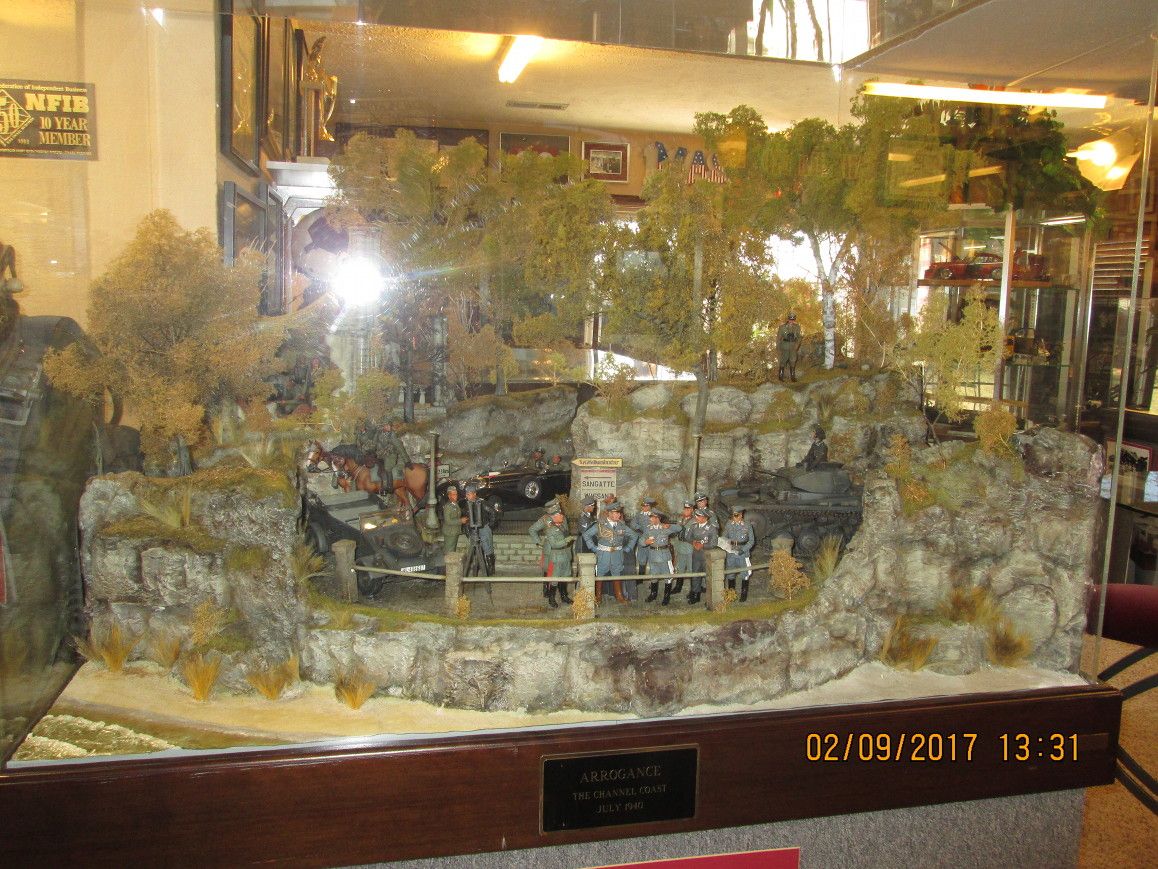 066. This is another collaboration of Pruneau and Verlinden. It is 120mm scale and quite large. Verlinden built the WW I German tank and Pruneau created the diorama. There are six German WW I figures in the diorama.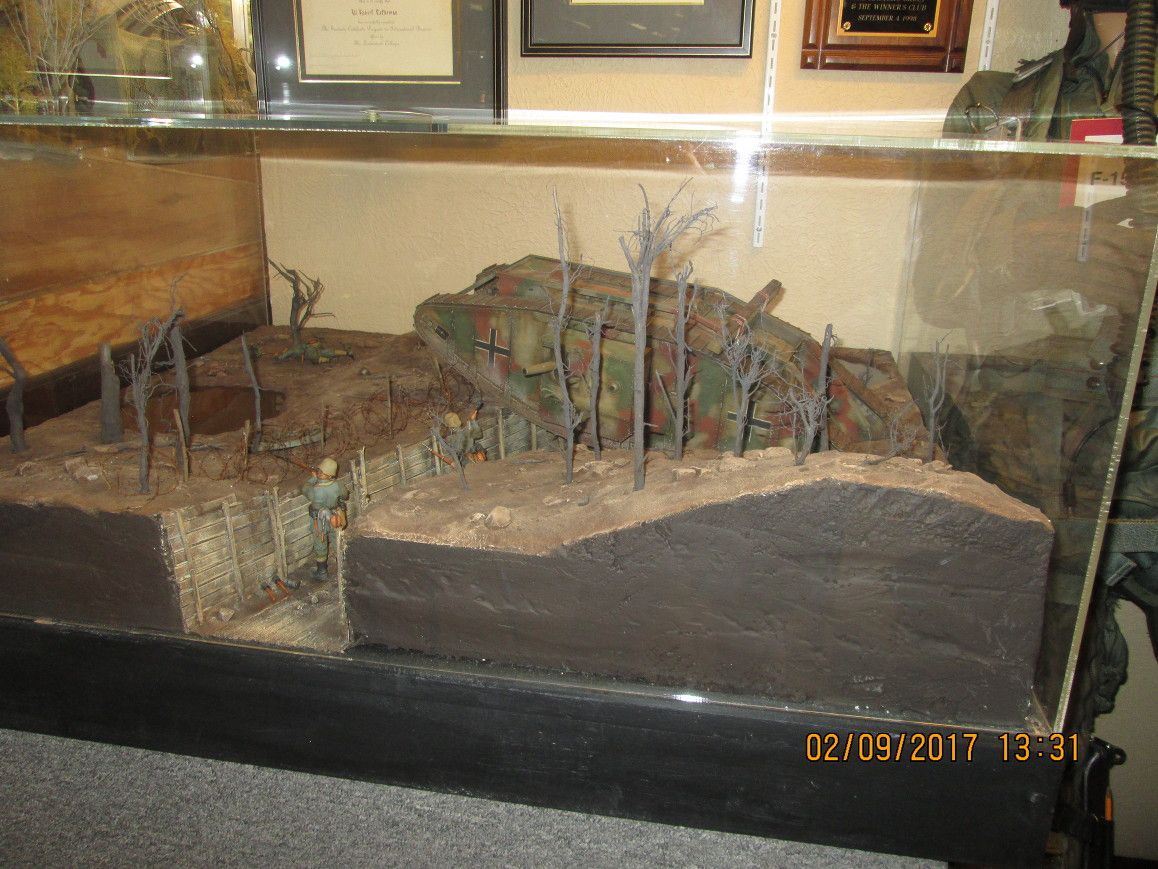 067. This is "Cocoon" A 1/72nd scale dry dock in Northeastern England during WW II. A friend had given me the kit from Matchbox which was really old and really terrible in terms of quality. Anyway, it had been laying around for some time, so I decided to make it the center of another "Superdiorama". I cut layers and layers of the dry dock sides to create the "Stair" effect. A pity I never took SBS photographs. Although in 1/72nd scale, the dio is the same size as the other "Superdioramas" The dimensions are 8 feet wide, (2.4 meters) by 4 feet wide, (1.3 meters).
067a. Ditto
068. "Comrades". A 120mm diorama. The building is an old water mill converted into a "Gasthof", or Pub in Germany. The war is nearing the end, the soldiers weary and tired, but still take time to drink and sing and cook some "Brats". All the figures were heavily converted VP. The heads sculpted to "singers". The mandolin was made from epoxy and strip styrene. The piano is a converted doll house piece. The fancy stein was also from epoxy. Furniture, deer head, CucKoo clock, chairs and stool were from plastic sheet and stock.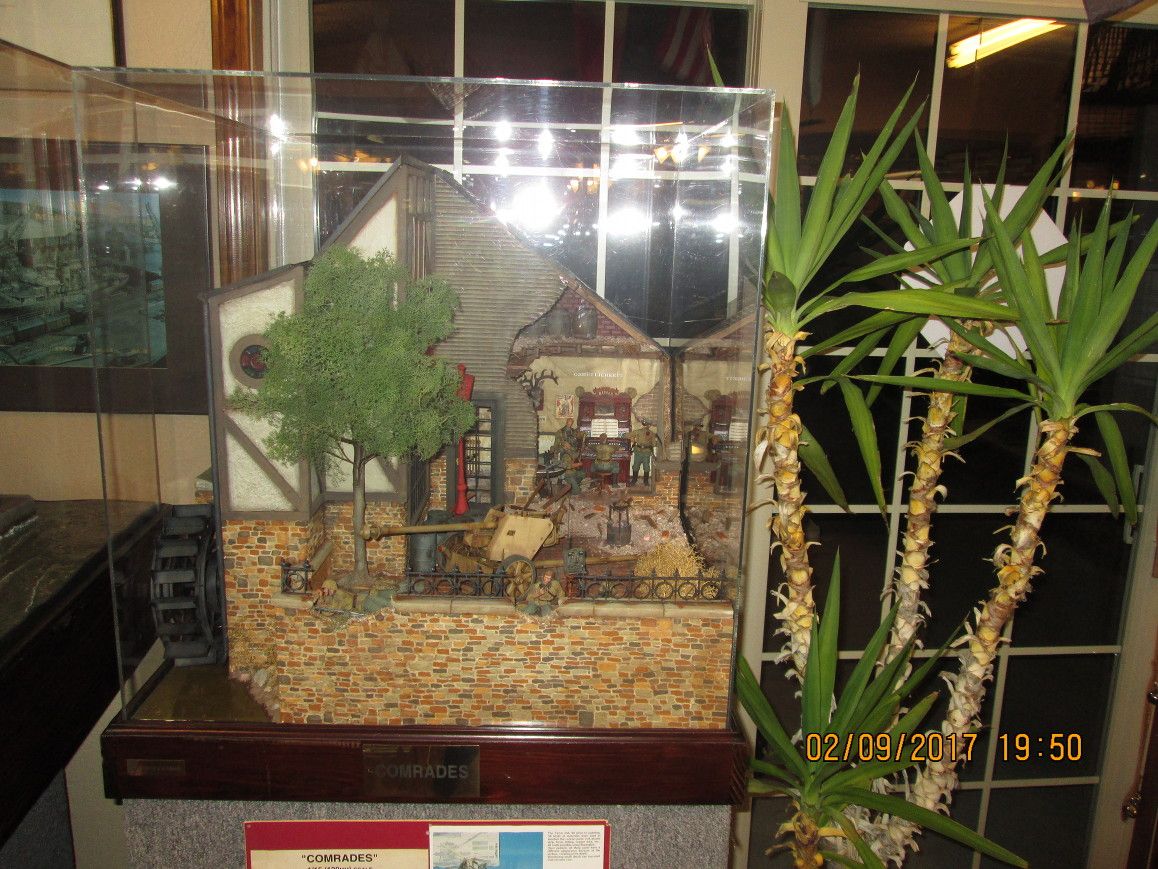 068a. The 75mm German anti-tank gun was built entirely from scratch using plans of the real gun.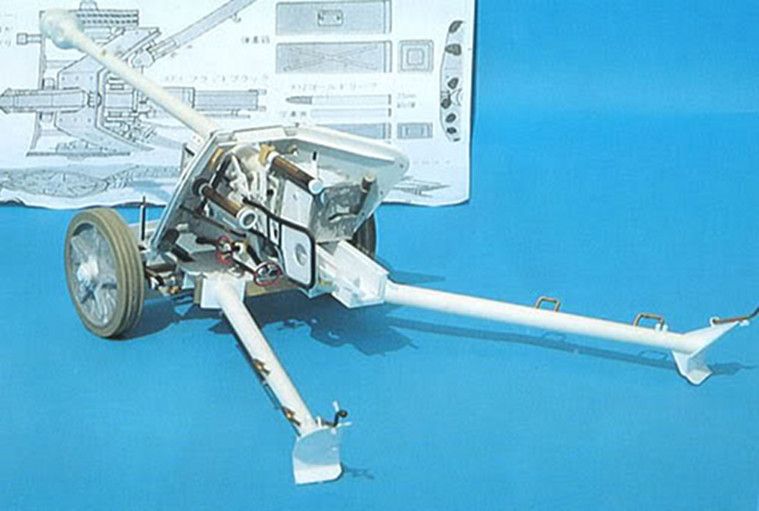 069. Ditto Comrades.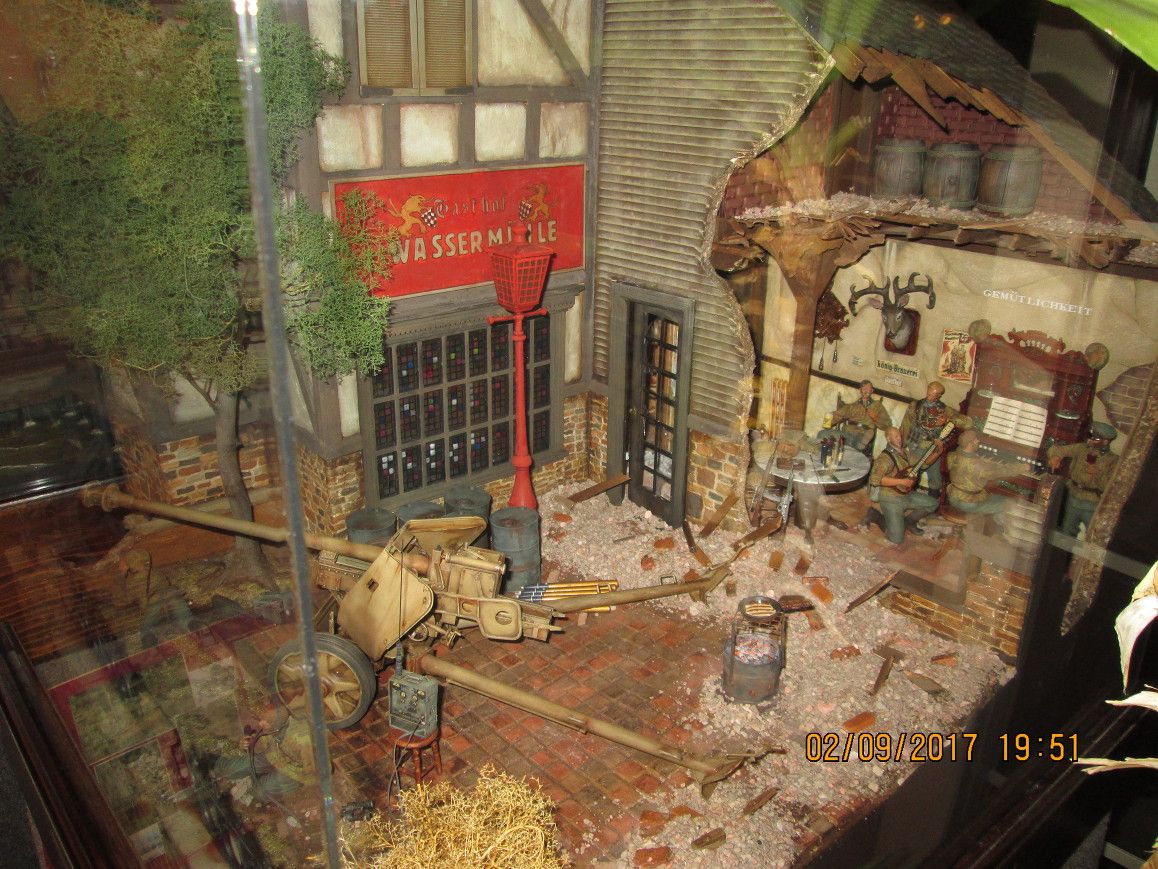 069a Ditto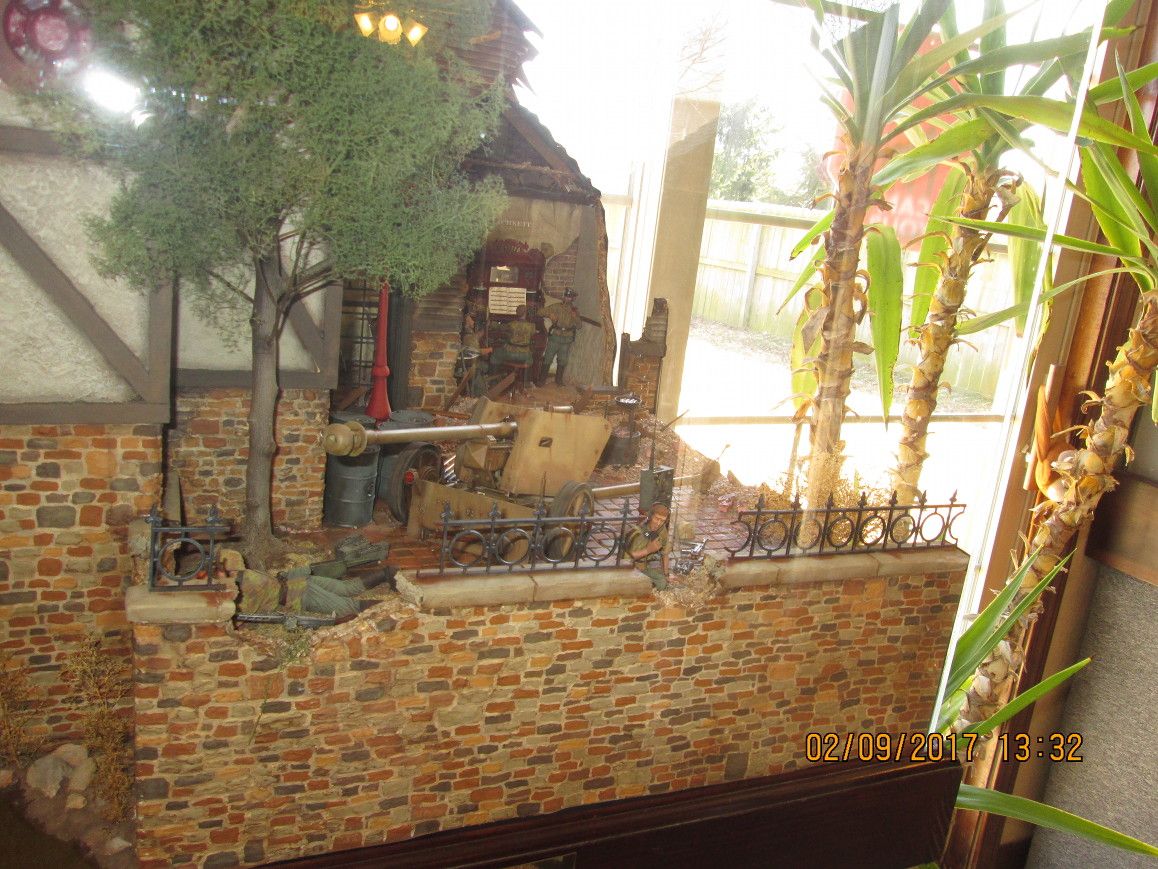 070. Another 120mm diorama. This was built in 1996. VP had just released the 120mm 88 flak. My partner asked me to create a diorama using the kit, so I built "Quota". This is absolutely the tallest diorama I have ever built. From the base to the top it is 5 feet, (1.6 meters), and sitting on the floor base, it rises to 8 feet, (2.4 meters). Those who have seen it in publications are usually surprised when they see it in the museum because the top is considerably over their head.
071. Ditto
072. Ditto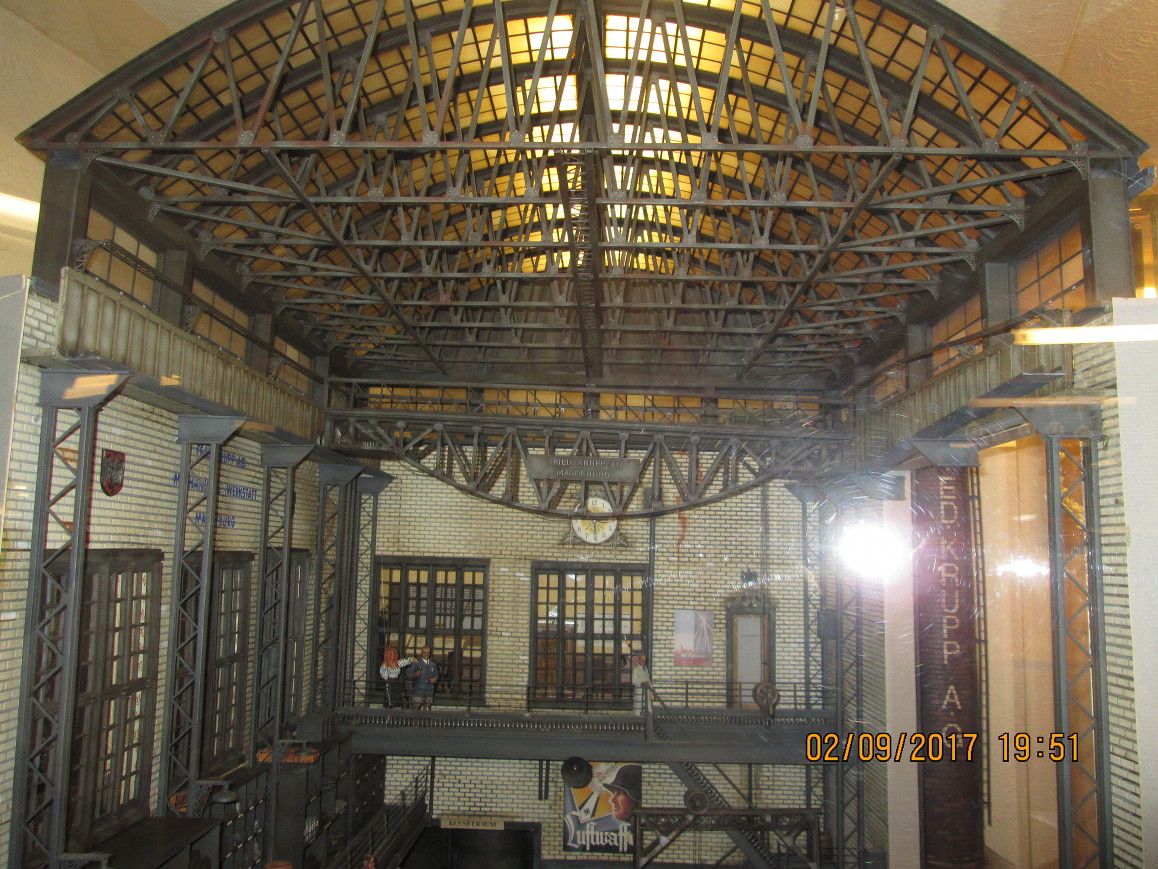 073. The Liberation of Sheila. This one is about a German beutepark in WW II, located in Paris-Nanterre. The Germans moved captured Allied aircraft to the units, put them back into flying condition, then, rotate their pilots through to fly them, so they could discover the strengths and weaknesses. They all had German insignia for obvious reasons! This is in 1/48th scale, the B-17 and C-47 were from Monogram and the Mustang was Hasegawa, The vehicles were Bandai and some Verlinden.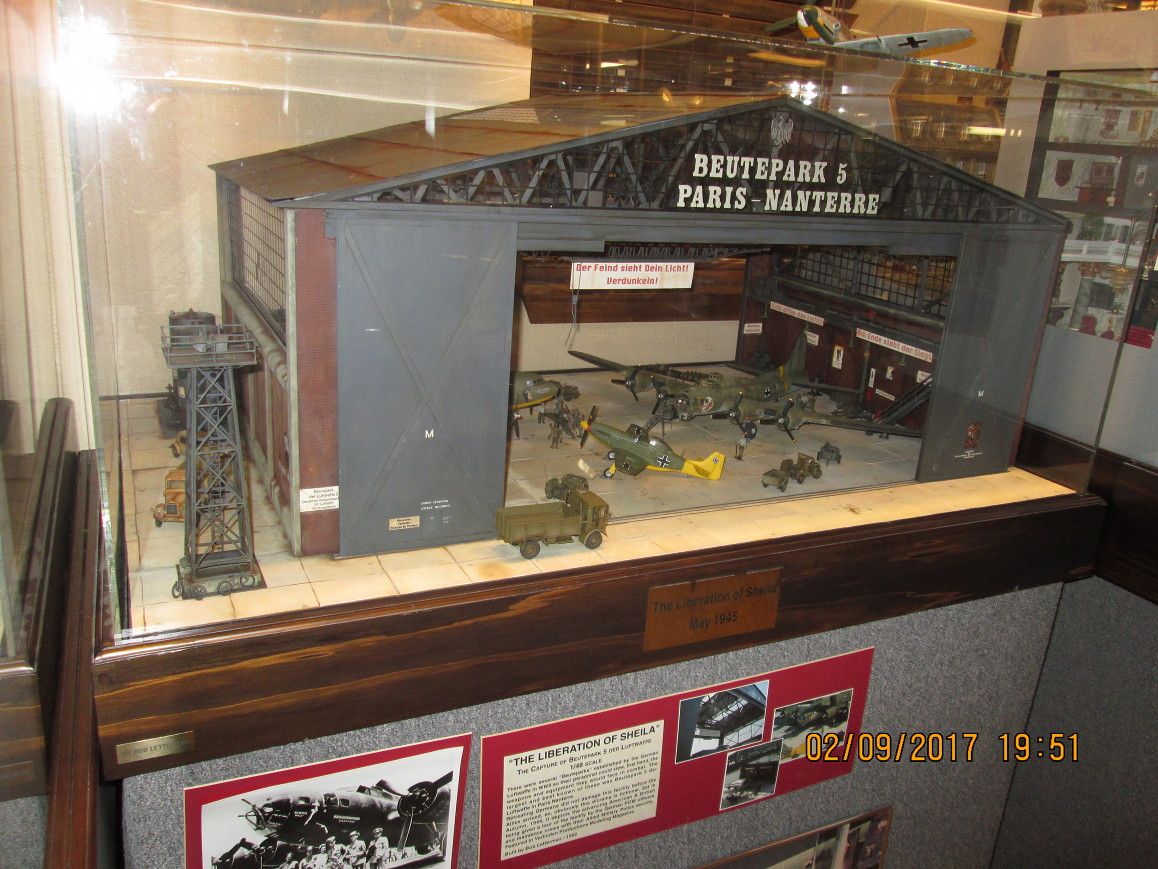 074. Ditto.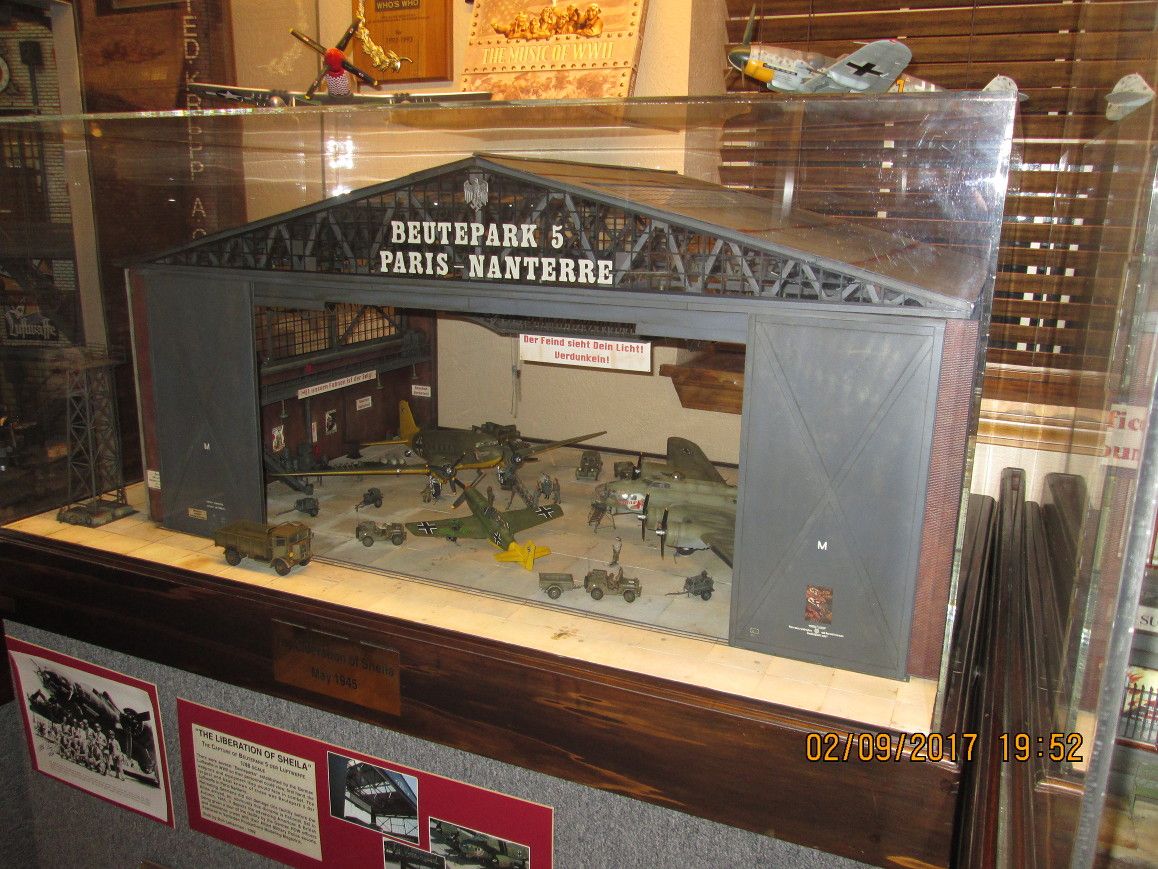 075. "Legacies II". My most published diorama. It has been featured in more than 60 books and magazine articles worldwide. I had started VLS in my basement in 1983. By 1985, I had hooked up with Verlinden and Stok. I was distributing to all of America, Canada and South America. I had a deal with Fine Scale Modeler to publish an article when complete and then they had some problems and cancelled all contracts to print books. In July, '85, I met Verlinden at the 1985 Indianapolis Nationals, he had seen the progress on "Legacies", I had told him about FSM canceling the book and he immediately asked me if Verlinden Publications could publish it. He had, up to this time, published the first three Verlinden Way books. I agreed and we set a deadline of December first, '85, and Superdioramas was born.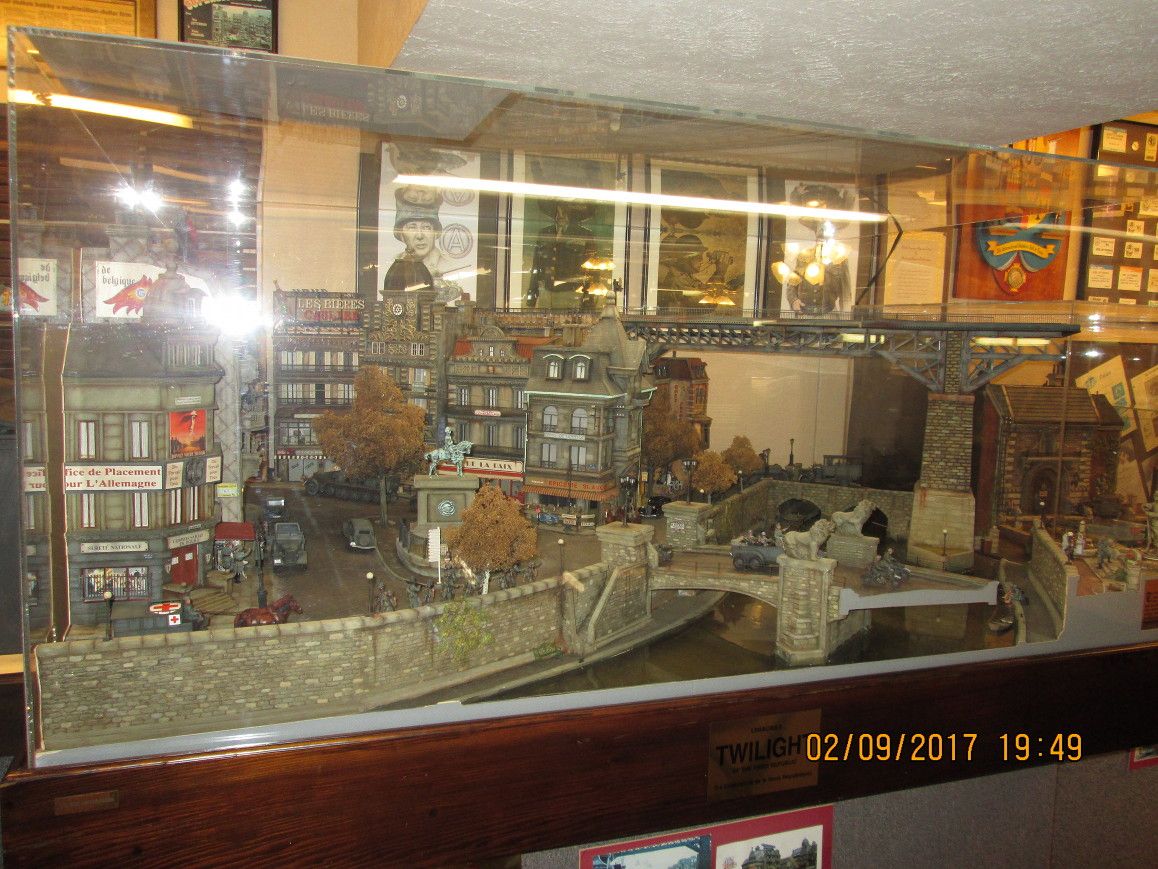 075a Ditto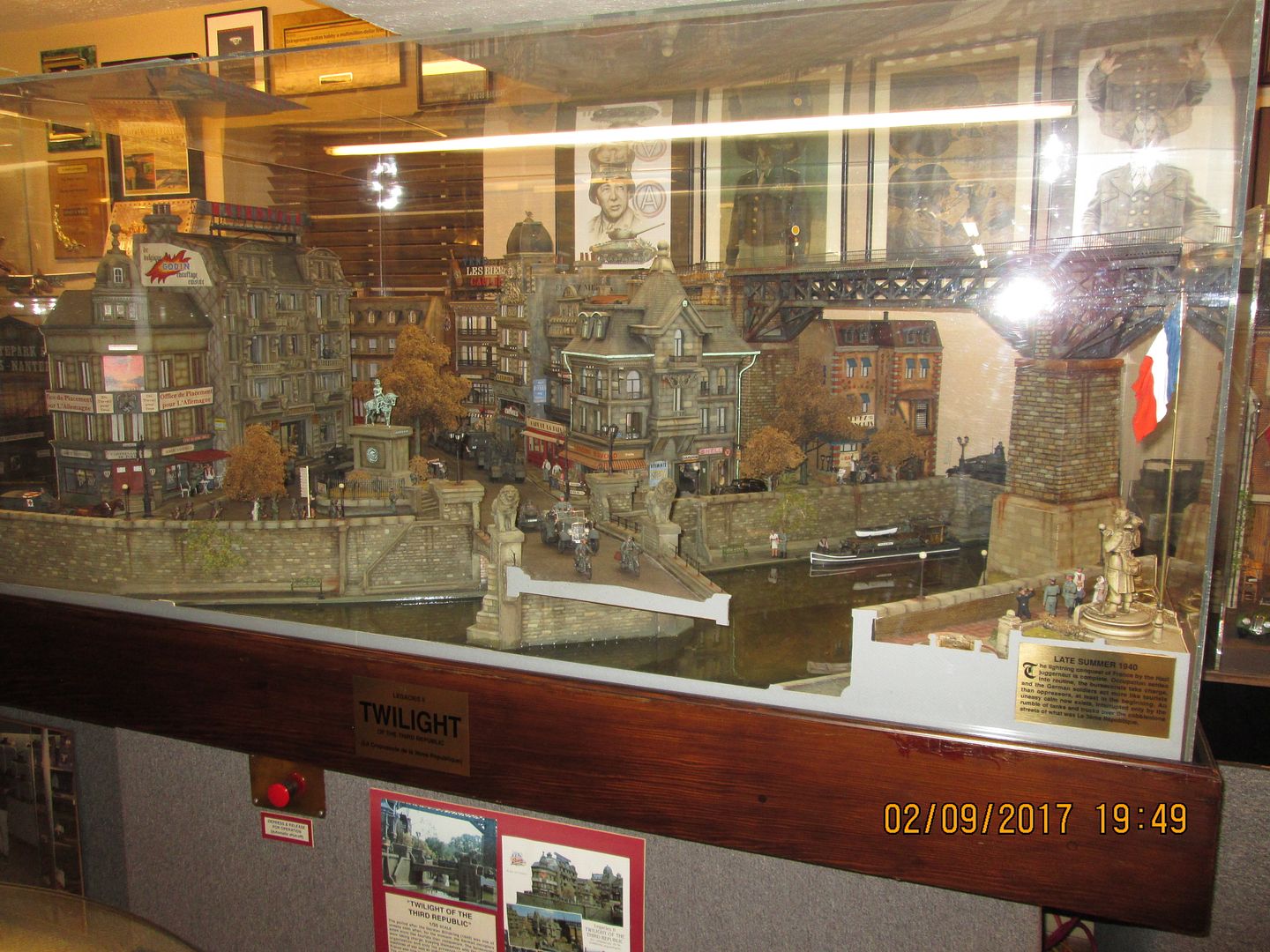 076. "Nest". Based on a French "Castle Farm" as is found along the Normandy coast. It is in 1/24th scale. The searchlight and buildings were from scratch, the figures were all converted from those four Tamiya figures, 1/24 Rommel, etc., and the Tamiya race car figures. I really detailed the engine and cockpit and there was no aftermarket products back in 1984.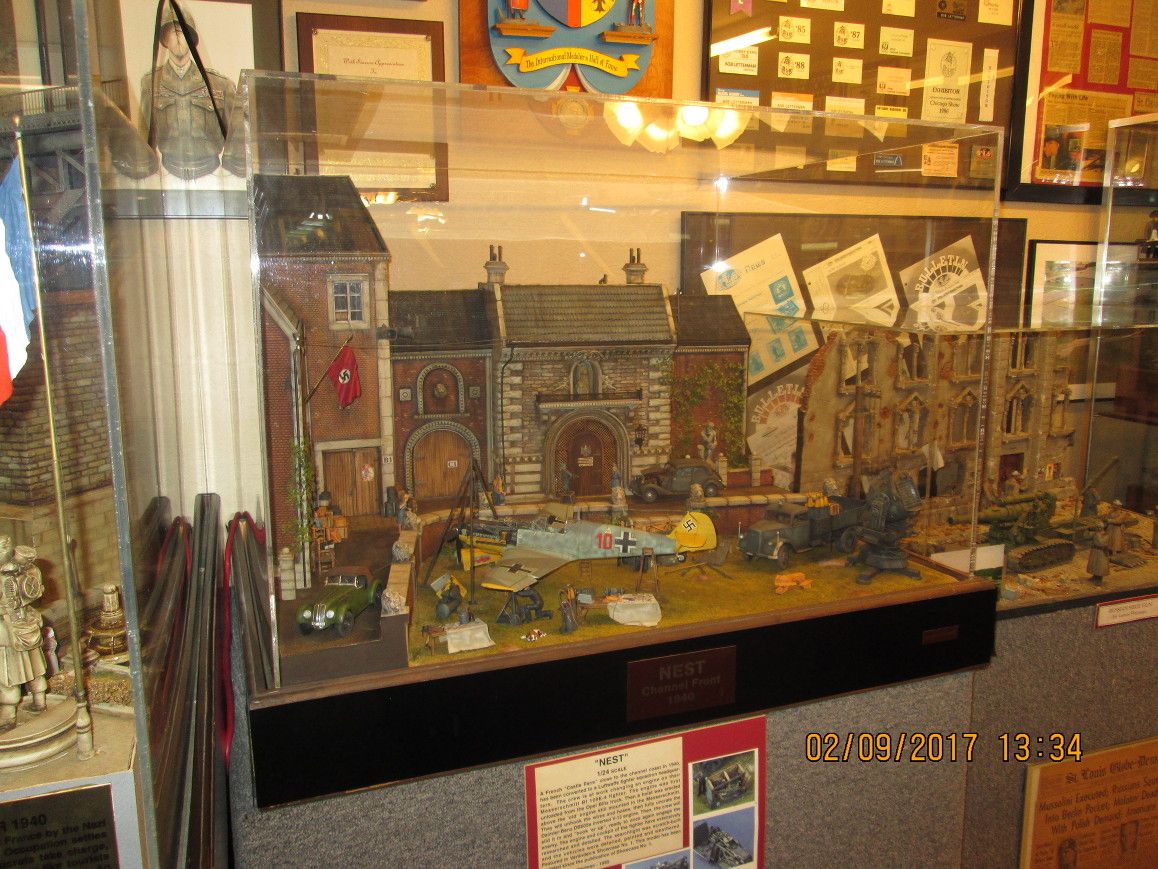 076a. This was built more than 33 years ago! No aftermarket!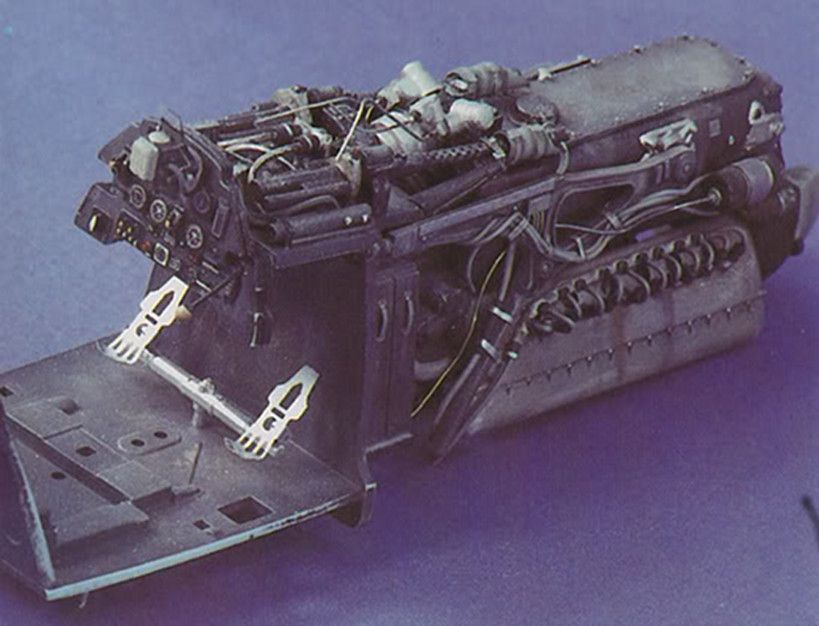 077. Russian Siege Gun, by Lewis Pruneau. Lewis built the tracked cannon from scratch using photographs of the actual gun. It is in 120mm scale, the figures are converted VP.
078. The "Figure" case.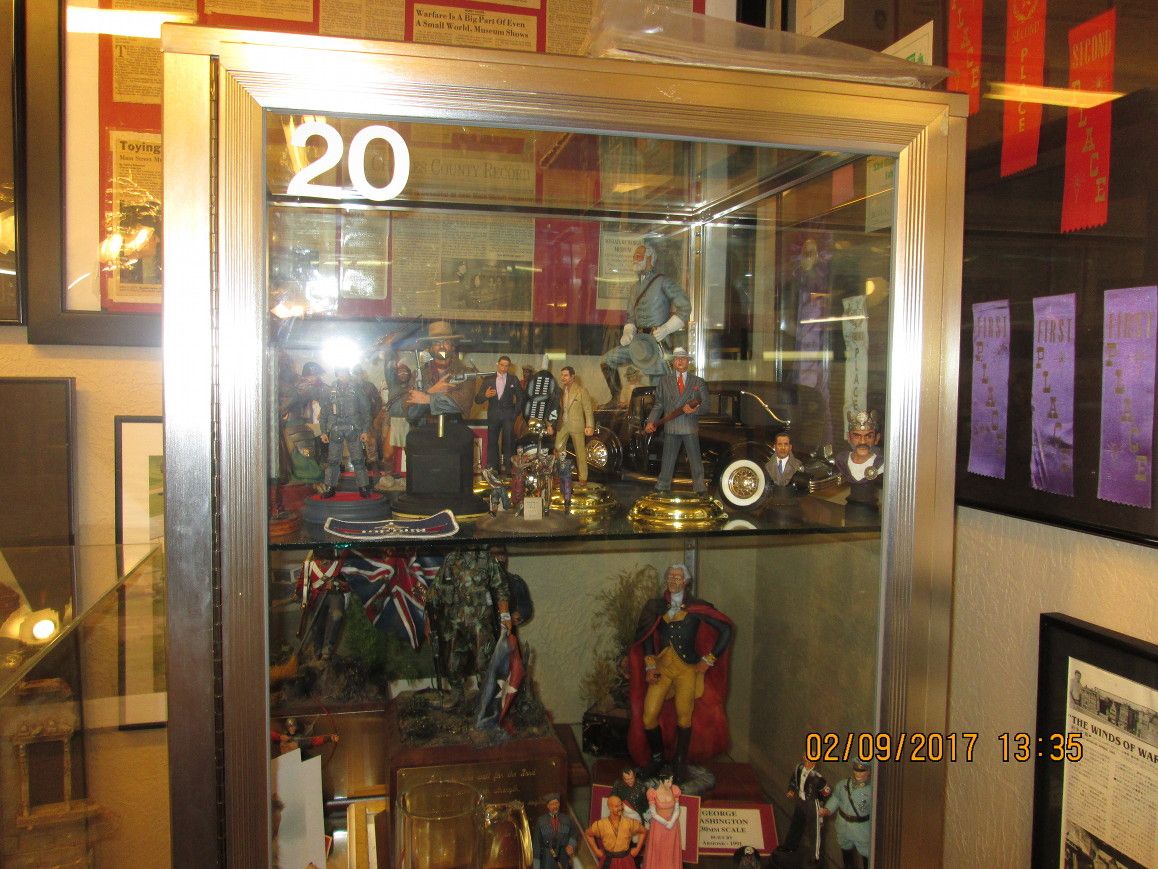 079. Ditto.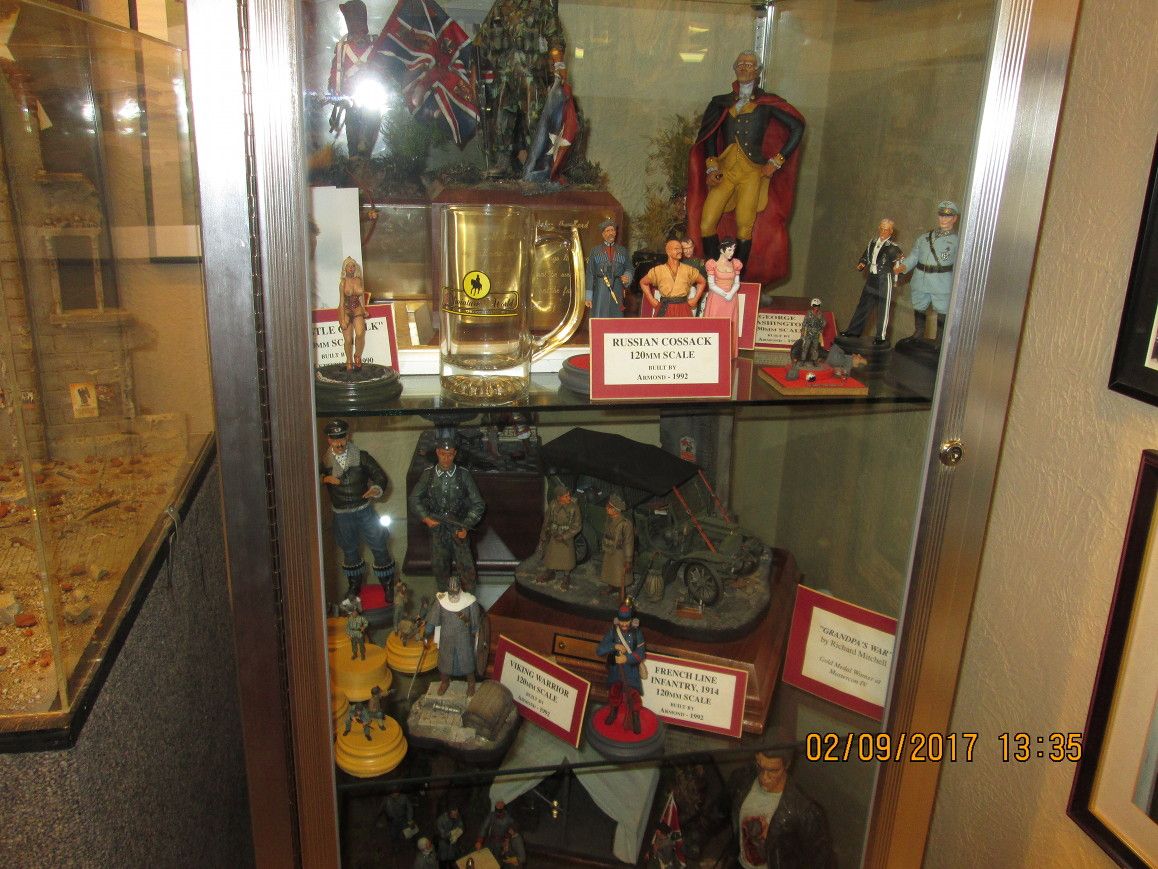 080. Some of my box art figures. Left to right, A Die Hard figure of Bruce Willis in the Nakatomi Tower. An air force pilot. The Outlaw Josie Wales bust, DeNiro and Pesce in "Casino", some skeleton pirates and "Al Capone". More in the rear.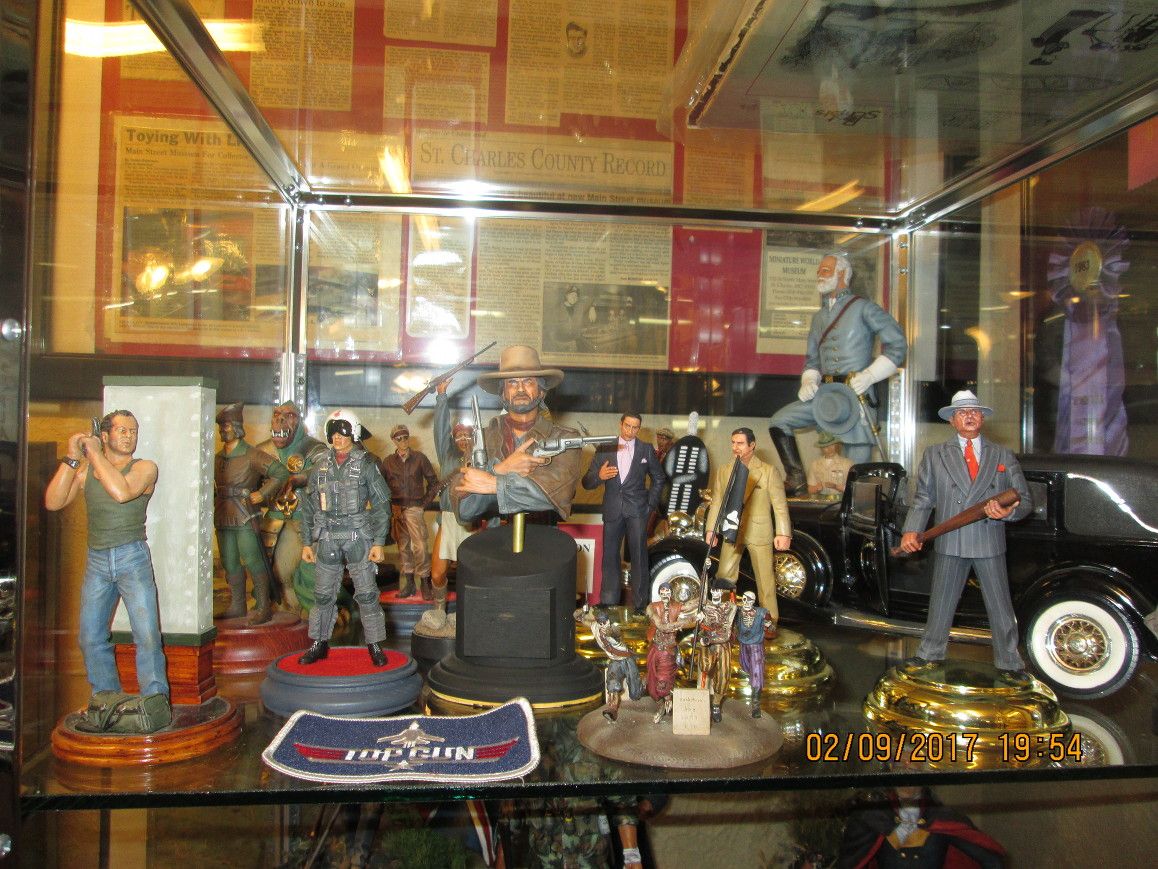 081. A Russian Cossack, Yul Brynner from "Taras Bulba", Napoleon and Josephine and George Washington in the background! Michael Whitman, "Panzer Ace", in a formal uniform.
081a. Two figure Vignettes by Alex Buey from Vietnam.
081b. The only photo I have of Alex Buey is this one. The photographer was taking photos of The Master's members who had served in the military and caught Alex in front of them with his son. The guys in uniform are, left to right; Sgt. Joe Porter, Mastercon Emcee and VL:S employee; Air Force sergeant Mike Rechlicz, An MA member; Major Pat Cooney; Captain Brett Avants; An Army officer I can't remember his name; Sergeant Richard Mitchell; Air Force Sergeant Bob Waltman; Chief Petty Officer Albert Feltault ; and Petty Officer second class Chris Saulet.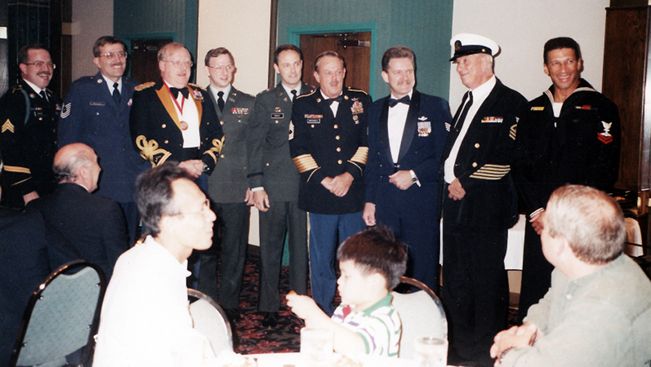 081c. Miscellaneous photos from Mastercons past. Joe Porter as emcee at the podium of the head table. Seated on this side of the podium, François Verlinden, His wife Lilliane, his son, Wim, and his son's wite, Judith.
081d. Left to right; Del Miller, Mastercon official Chaplain, Pat Stansell, editor of MMIR, Military Miniatures in Review among others; Rick Justice In the green shirt; with her back to the camera, Sydney Gonsoulin; And in the striped shirt, Eric Janssen.
081e. A seminar given by Joe Porter.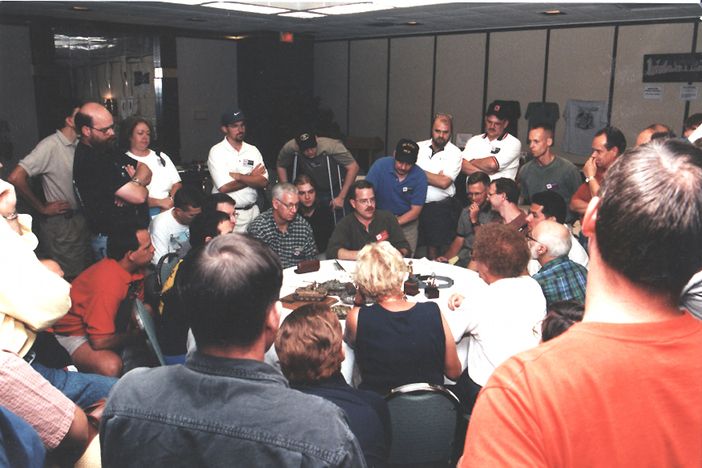 081f. Jim Patrick (L) and Don Kanaval.
081g. Our own Alex De Leon with his Mastercon Best of Show Master's Eagle.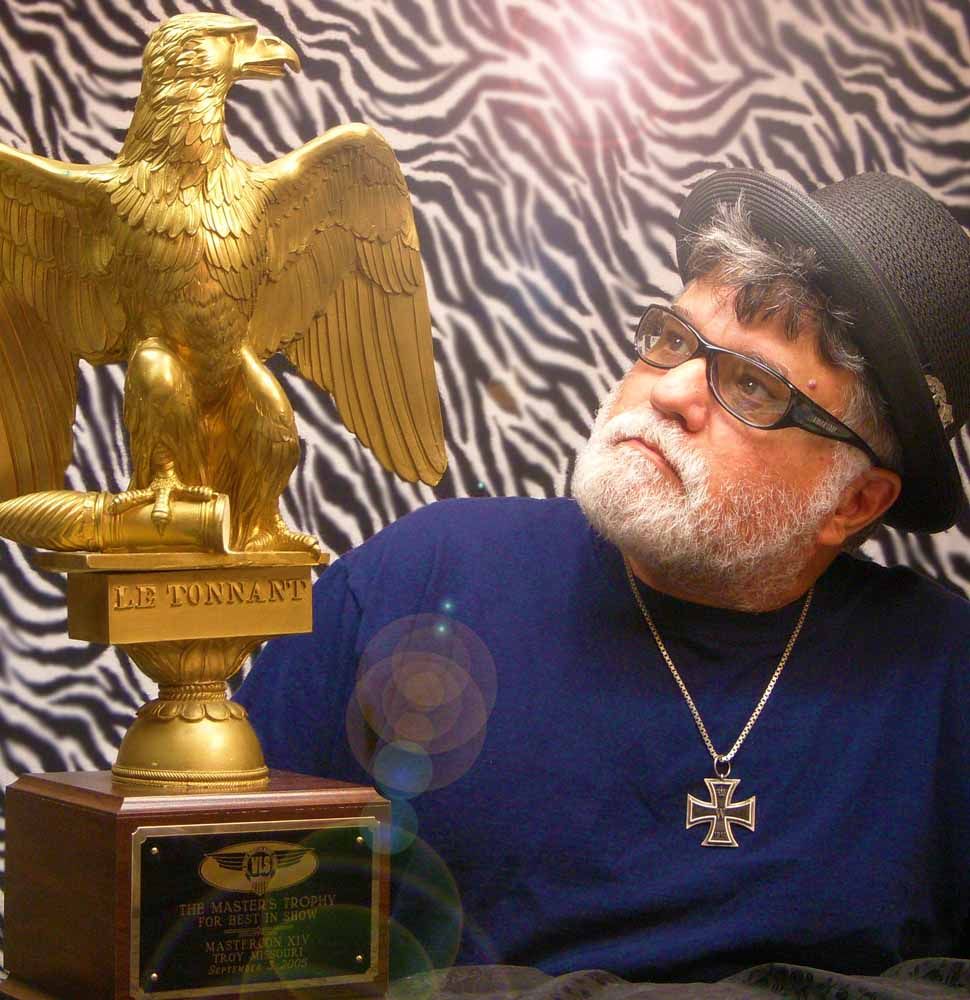 081h. At the NEW Mastercon, (Eagle Quest), held in Dallas each June. Susan, me, Jef Verswyvel and Jill, his wife. I have known Jef for many years. He was the master pattern maker for Verlinden in Belgium, then left for the states in 1995 to form Kendall Model Company with Willy Peeters. Later he founded Black Box among other companies. He is, in my opinion, the best pattern maker alive today. He is currently an executive with MMD/Squadron in Dallas.
081i. Me and Willy Peeters at Eagle Quest in 2015. Willy is a fantastic artist. He does a lot of commission work and he is capable of almost anything artistic. He photographed and laid out the Verlinden "Lock-On" series,"The Warmachines" series of books, The Verlinden Way and Showcase books, all the photo-etch, dry transfers and the printed accessories in the Verlinden line, plus many similar items in The Custom Dioramics, Tech Star, Trakz and Wingz lines for VLS after 1999. If anybody is looking for somebody to do commission work, contact me and I'll hook you up with Willy!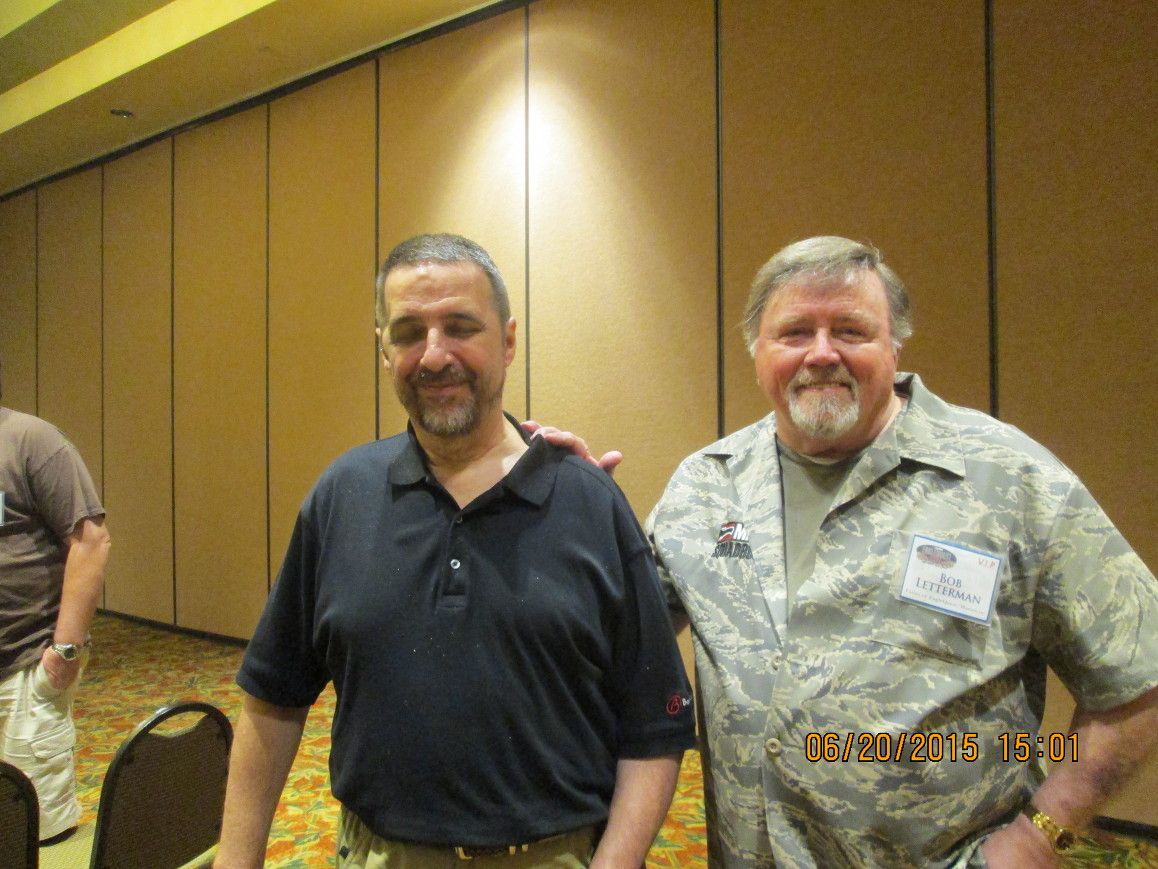 081j. At the second Eagle Quest, in 2008, Me, Susan and Dave Harper. Dave went to work at MMD/Squadron when it bought out VLS and stayed there until his untimely death in 2010. And there's our Mr. "T" on the far right!
081k. Bill Chilstrom. Dave Harper's best friend and a fantastic figure sculptor. Bill sculpted the majority of figures for the VLS lines, Warriors, Custom Dioramics and 135th Construction Battalion from 1999 to 2007.
081l. My old friend, Chuck Harransky. Chuck spent his life in the model industry. First at a major Didtributor in Ohio for years, then to MMD/Squadron, which he eventually went on to manage in the 90s. He is now retired but stays involved in the hobby!
081m. The company that bought VLS and allowed me to retire. MMD/Squadron of Carrolton, Texas, a Dallas suburb.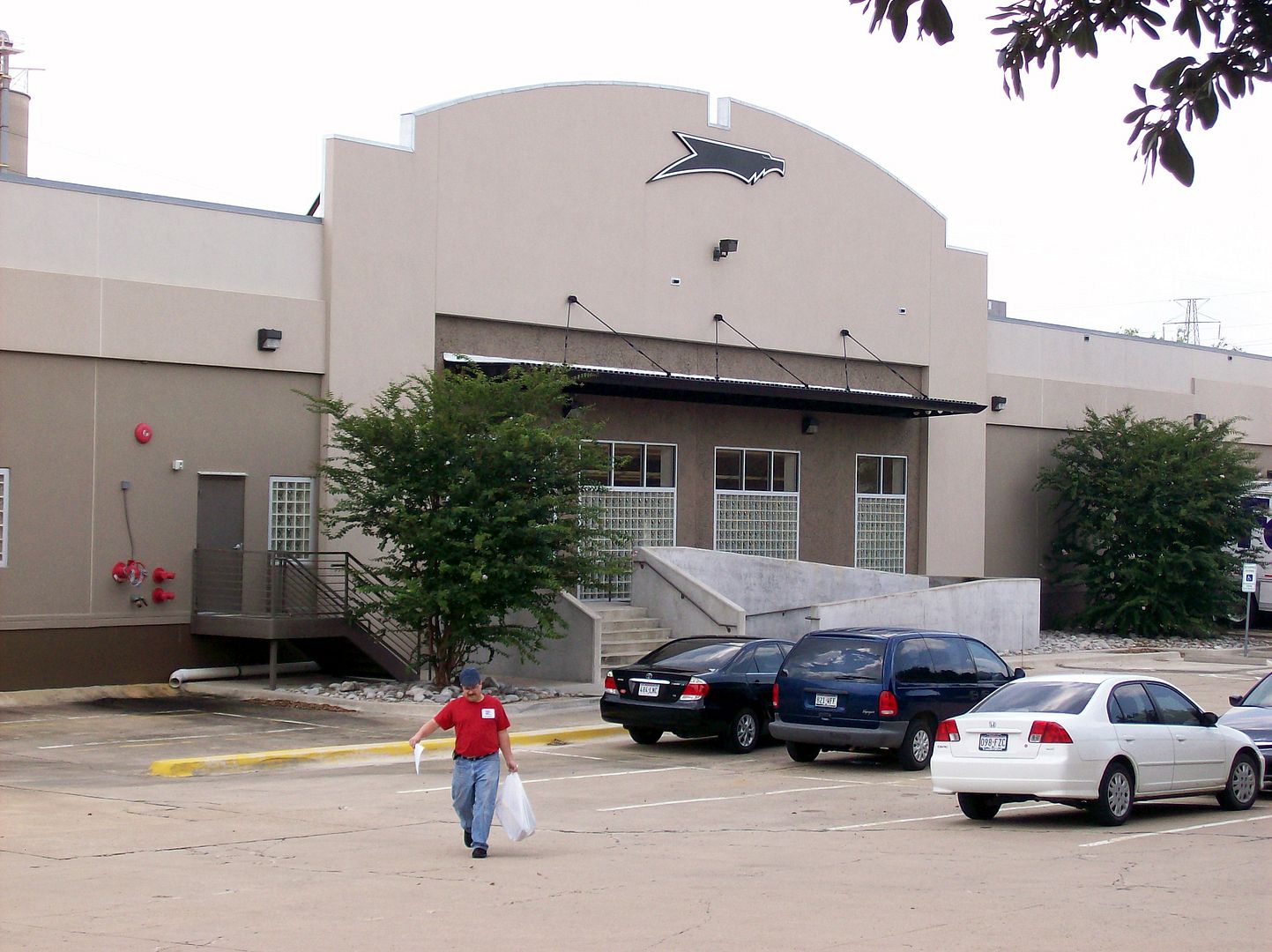 082. A Rustle of Silk! One of the Mascot models series of female figures. I gave in and painted one. 
Behind it is an annual Christmas card I received from Roger and Janet Styles, the owners. Even their Christmas cards were R-rated!
083. A French Line Infantry soldier, built for VLS by a company in Mexico only known as "Armond" They saved me a lot of time by painting the Legend and Lore figures for Box Art and advertising from 1999 to 2007.Then, "Grandpa's War" by the late Richard Mitchell of Tennessee. He was a Mastercon regular and very popular with the members!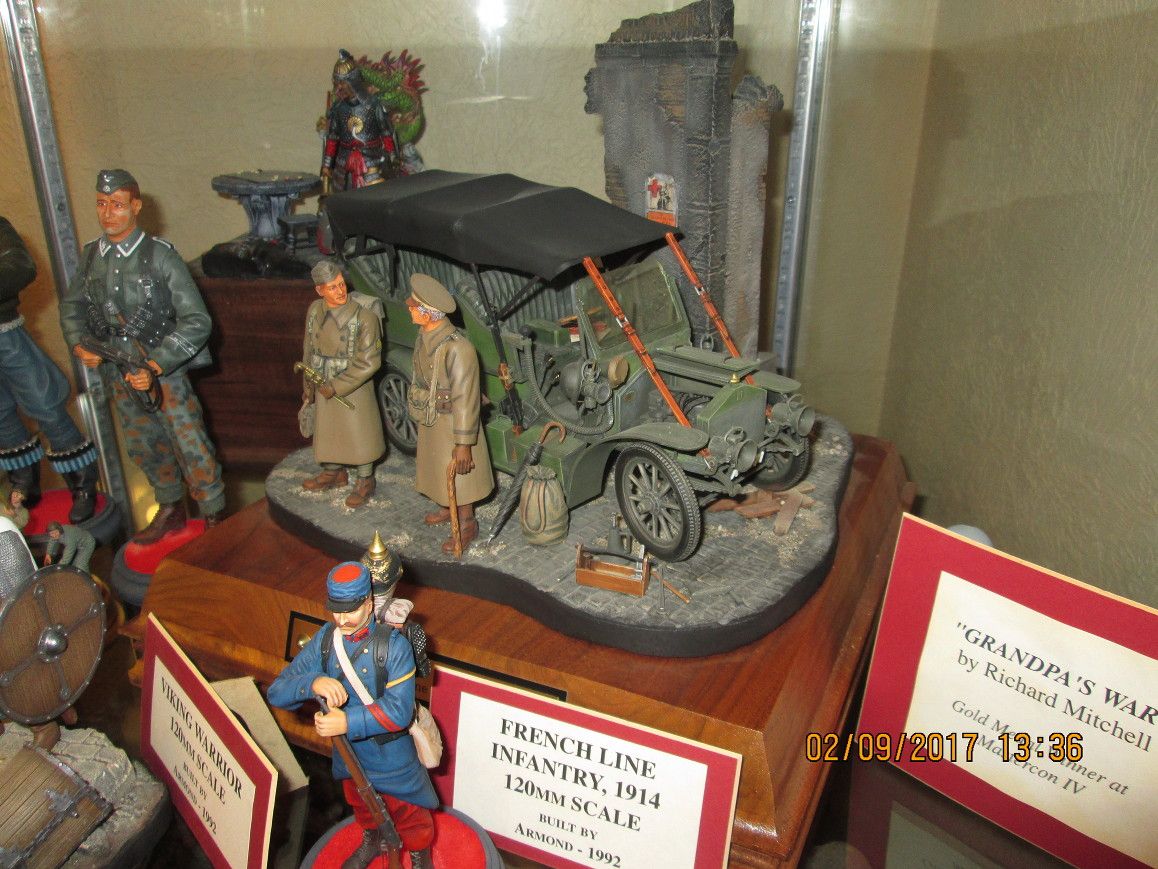 084. More "Armond" figures plus some 1/35th Warriors box art figures.
085. Another Richard Mitchell diorama, "The Last Conference". It depicts General Lee and his lieutenants prior to meeting Grant at the Appomattox courthouse. The Diorama is in 120mm scale.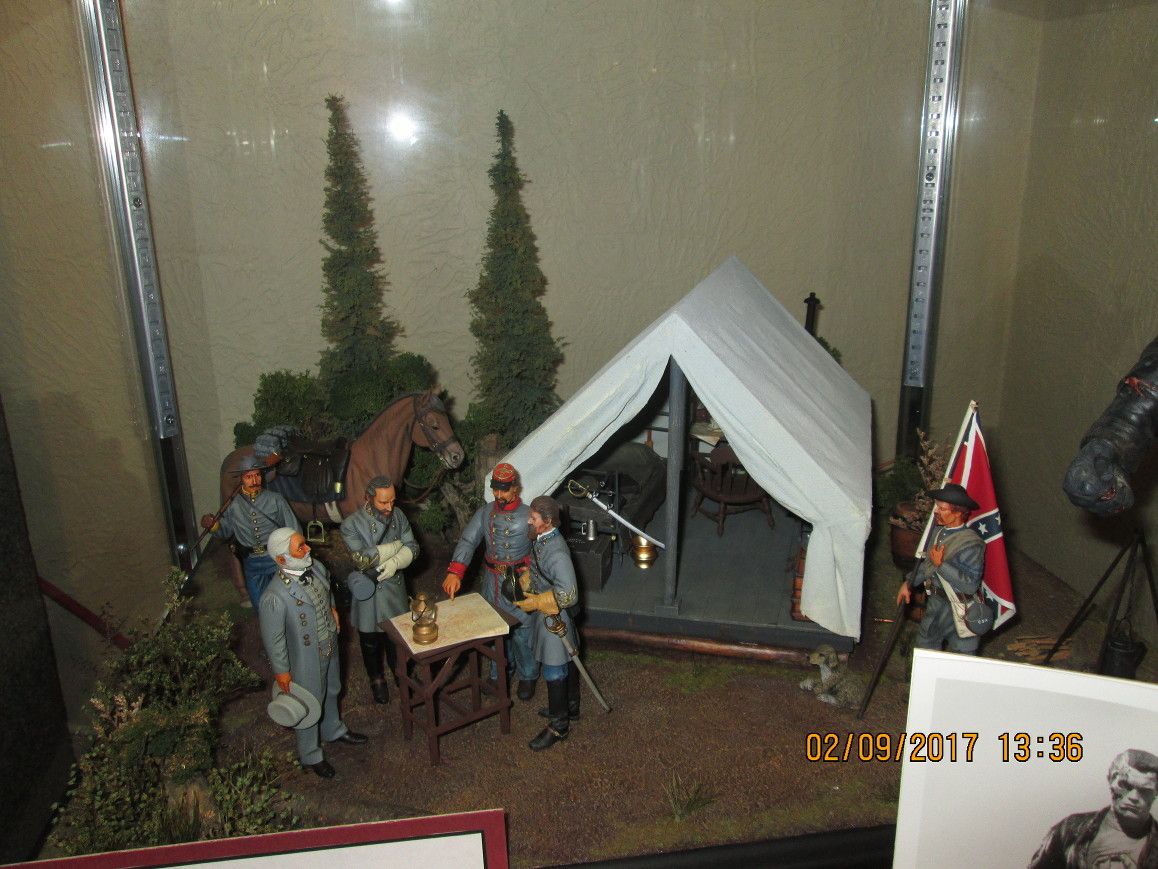 085a. Richard Mitchell accepting the Judges Grand Award at Mastercon.
086. Another angle of Mitchell's diorama and "The Terminator" . My apologies, but I can't remember who built this figure? It's 1/6th scale.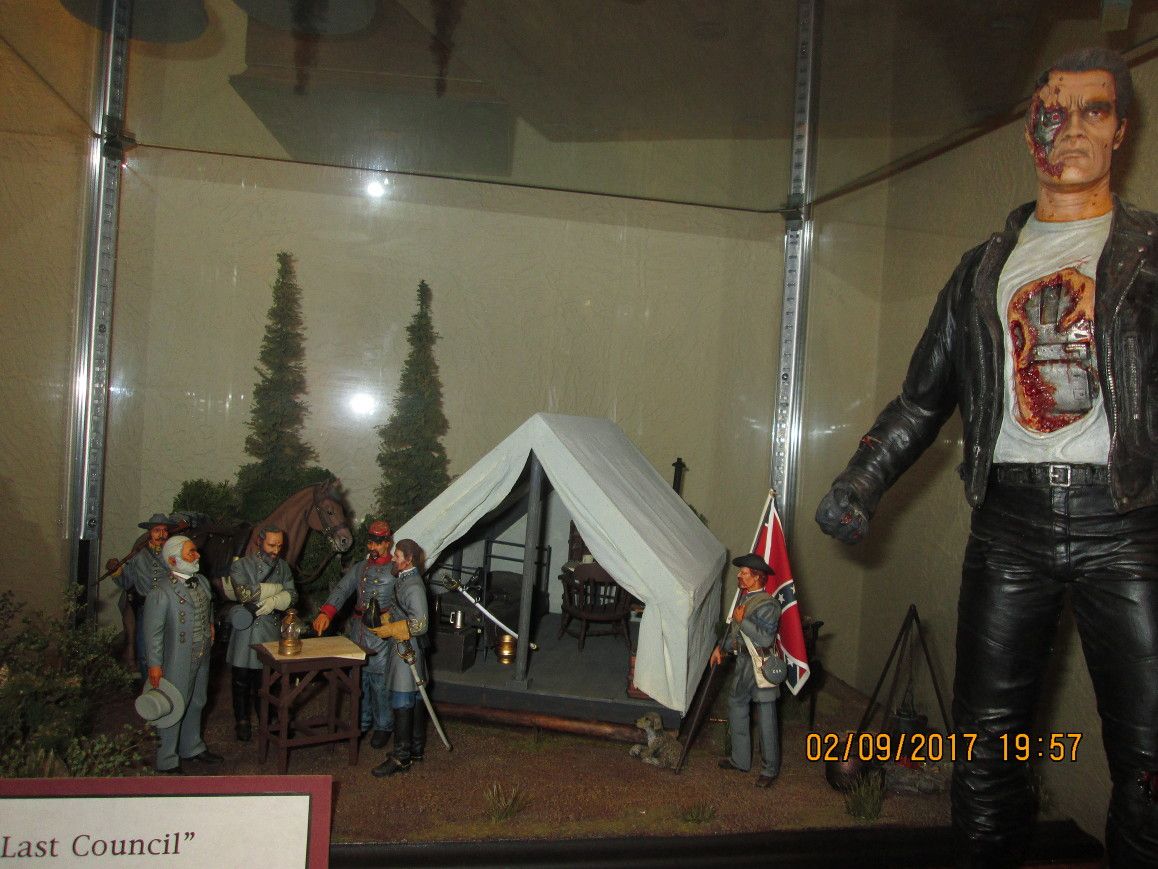 Part 5, the Cars
087. The big, octagonal Car and Truck case. After military and aircraft, my third favorite modeling subject is cars!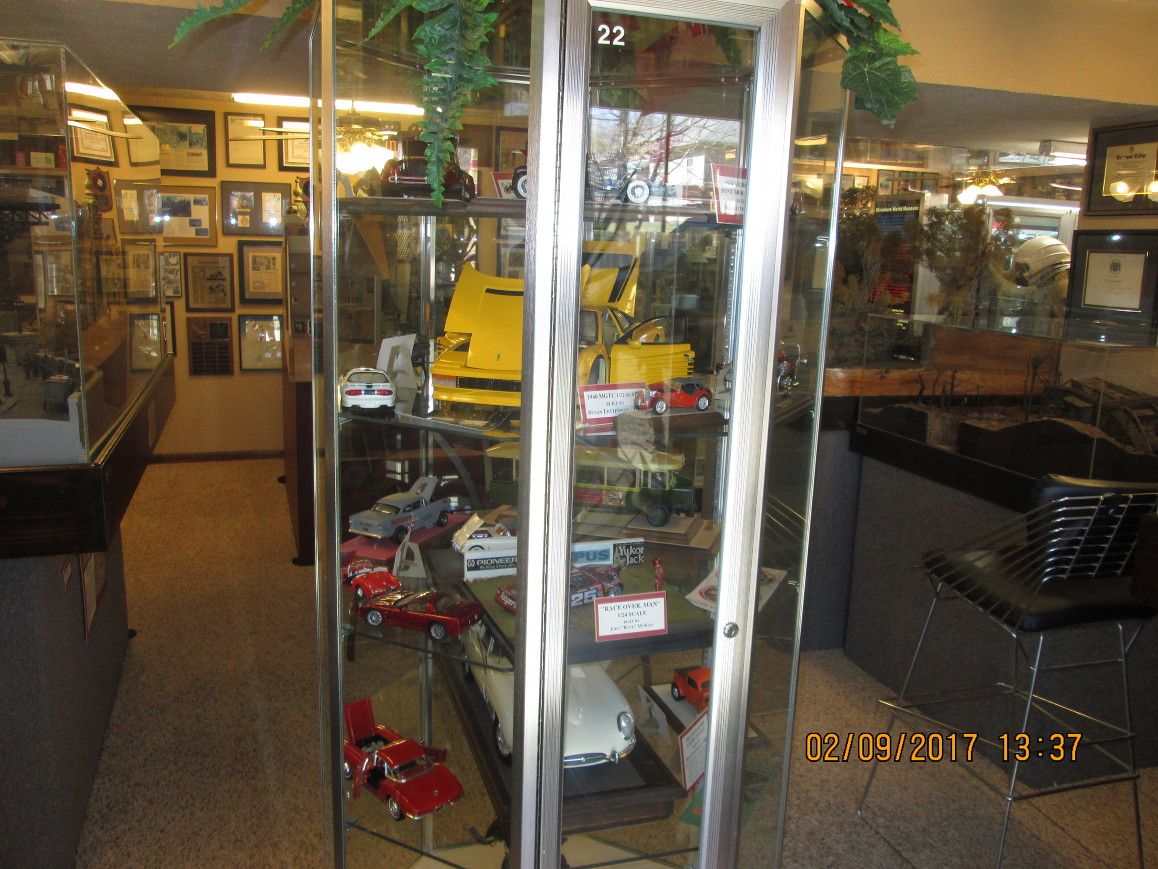 088. My wife Susan, built this MGTC years ago. It actually won a first place at a model car competition. Behind it is a Yellow Ferrari Testarossa. I recently built it as a group build on modelersalliance.com.
089. A Kawasaki Z-1000 cc quad. I had one of these back in 1976, loved it and had to build a model of it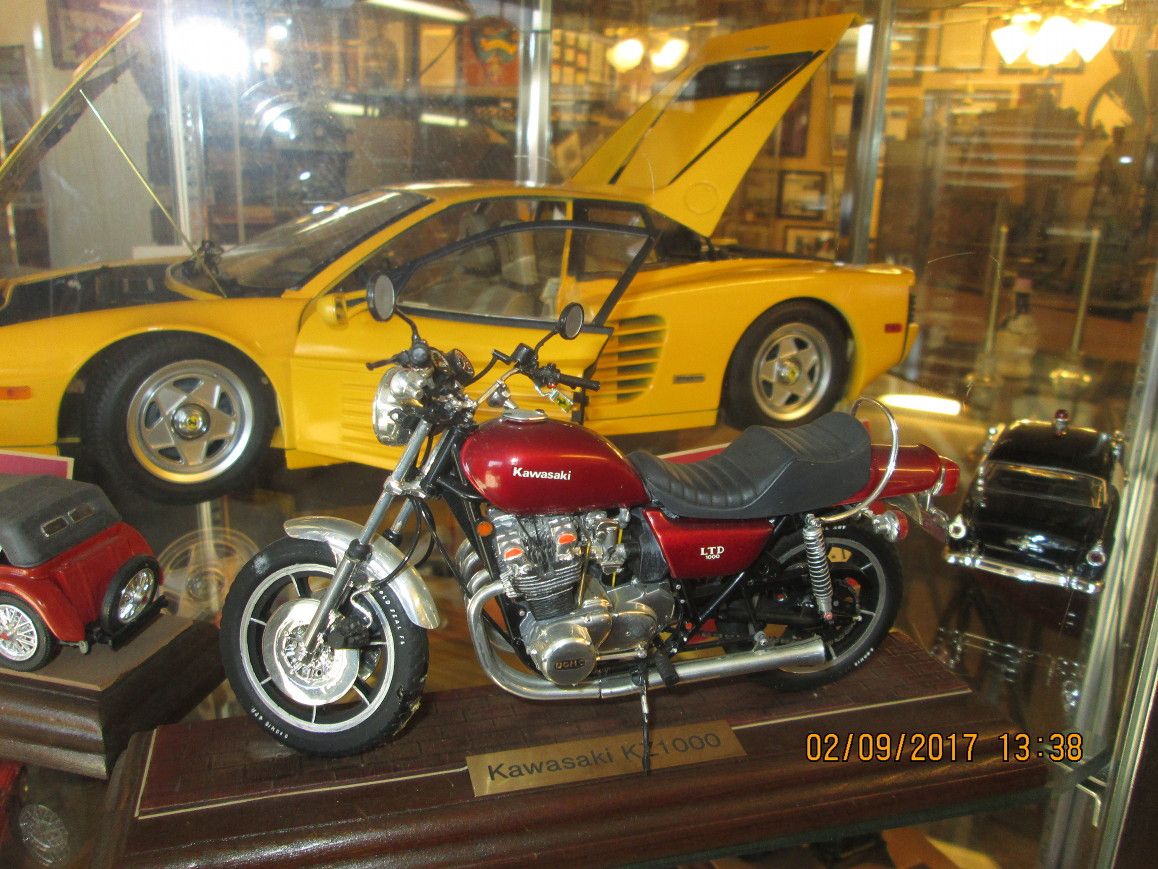 090. A 1956 Ford Springfield Mo. Police car. (Diecast). I was a Springfield, MO cop from 1962 to 1966 before moving to St. Louis.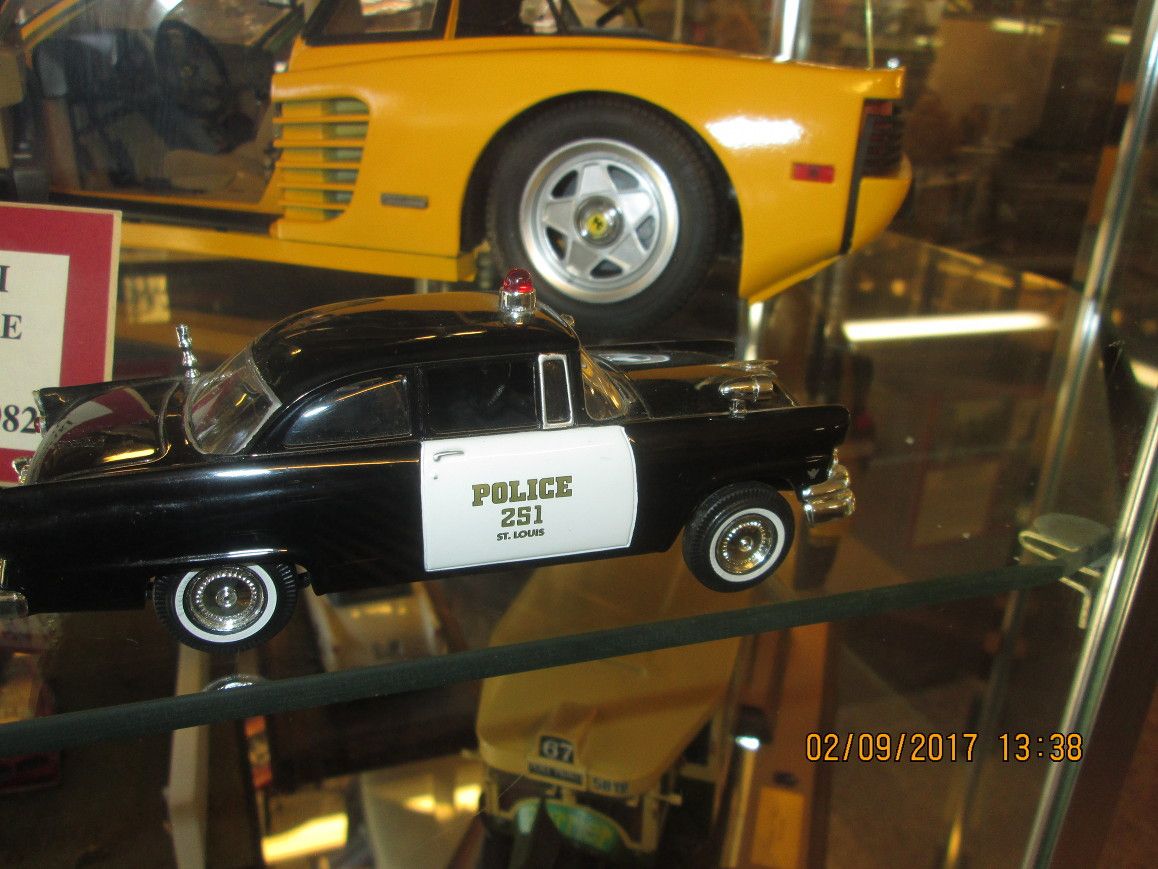 091. A Porsche 930 Turbo in 1/12th scale. I retired from competition in 1985. This was my final and only entry. That year It won a first place in the IPMS Nationals. I also owned a full size red Porsche Turbo.
092. Ditto. Rear shot of the engine.
093. Rear of the Ferrari.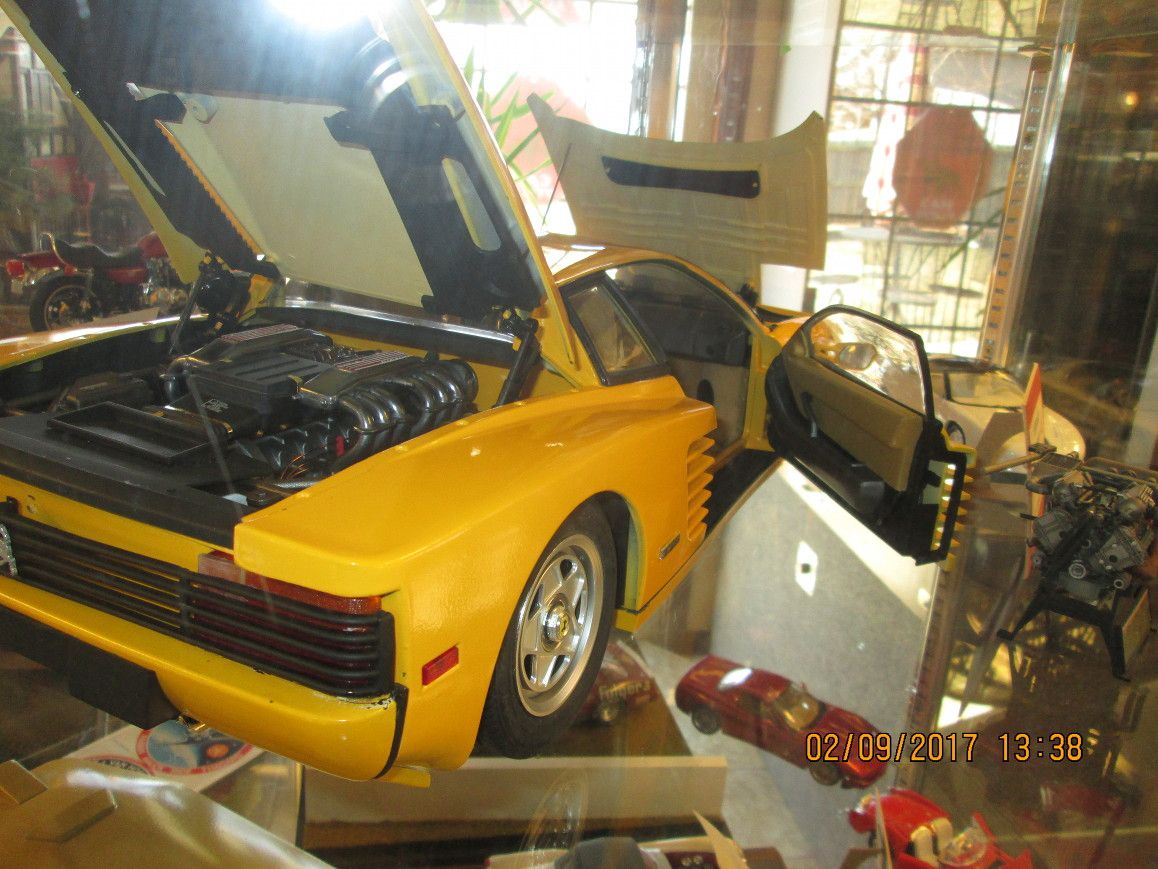 094. A Ferrari engine. I had built a diorama of a police car stopping a Ferrari. When it was almost complete, one of my Dobermans walked underneath a small table it was setting on. He raised his head, the diorama went up in the air, flipped over, and landed upside down on the floor. This was all that was salvageable. I started over and built another one.
095. Another view of the Testarossa.
096. A Shelby Cobra in 1/16th scale. Built in 1982, it won a lot of trophies in it's day! I always wanted to have one of these but never did!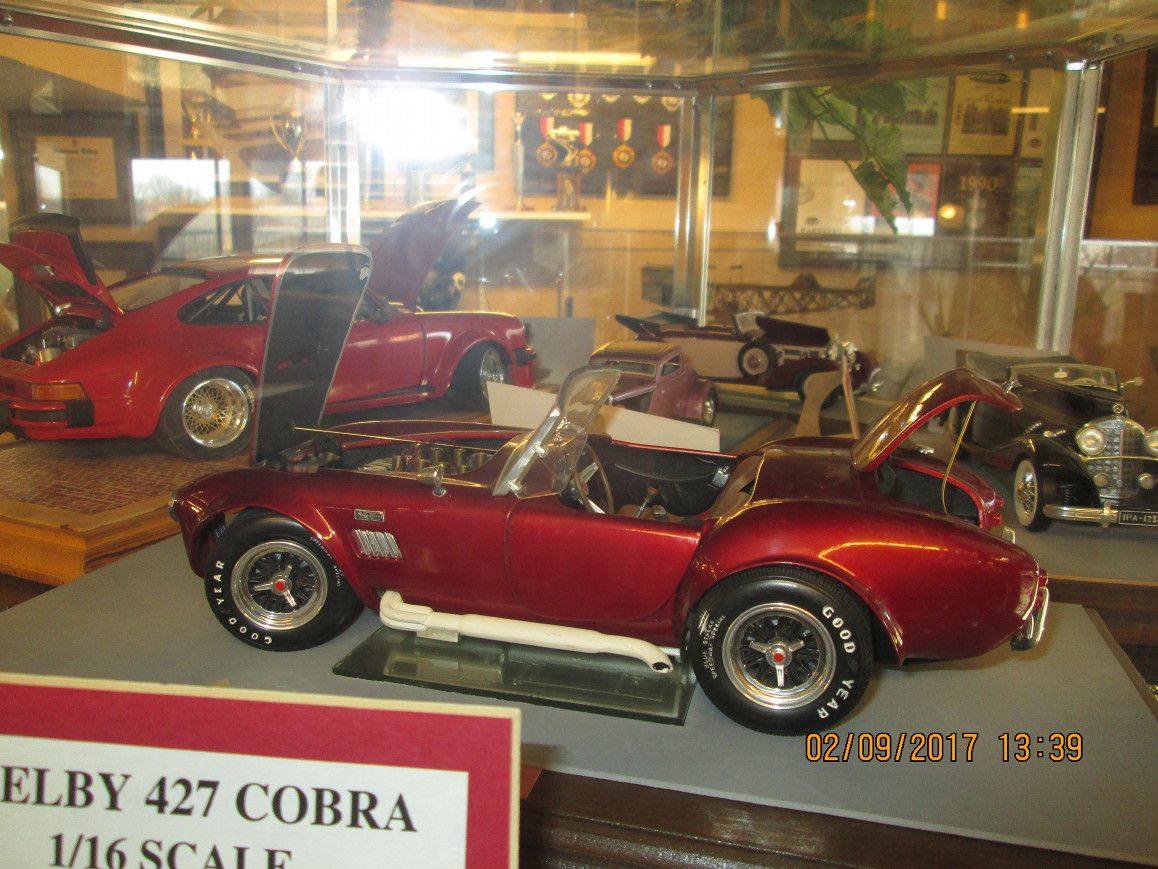 097. A Mercedes 500K from 1982. 1/24th scale.
098. Ditto
099. "Race Over Man" by John, "Buck" McKlin, from Ste. Genieveve, Mo. John built the entire front body panels and hood by burnishing lead foil to the plastic model parts, creating duplicates. Then he painted and added the decals to them to match the rest of the car, then simply pushed it against an brass tube to achieve the crashed appearance. Very effective! John is an old friend of Lewis Pruneau and mine as well! He worked at VLS for a couple of years!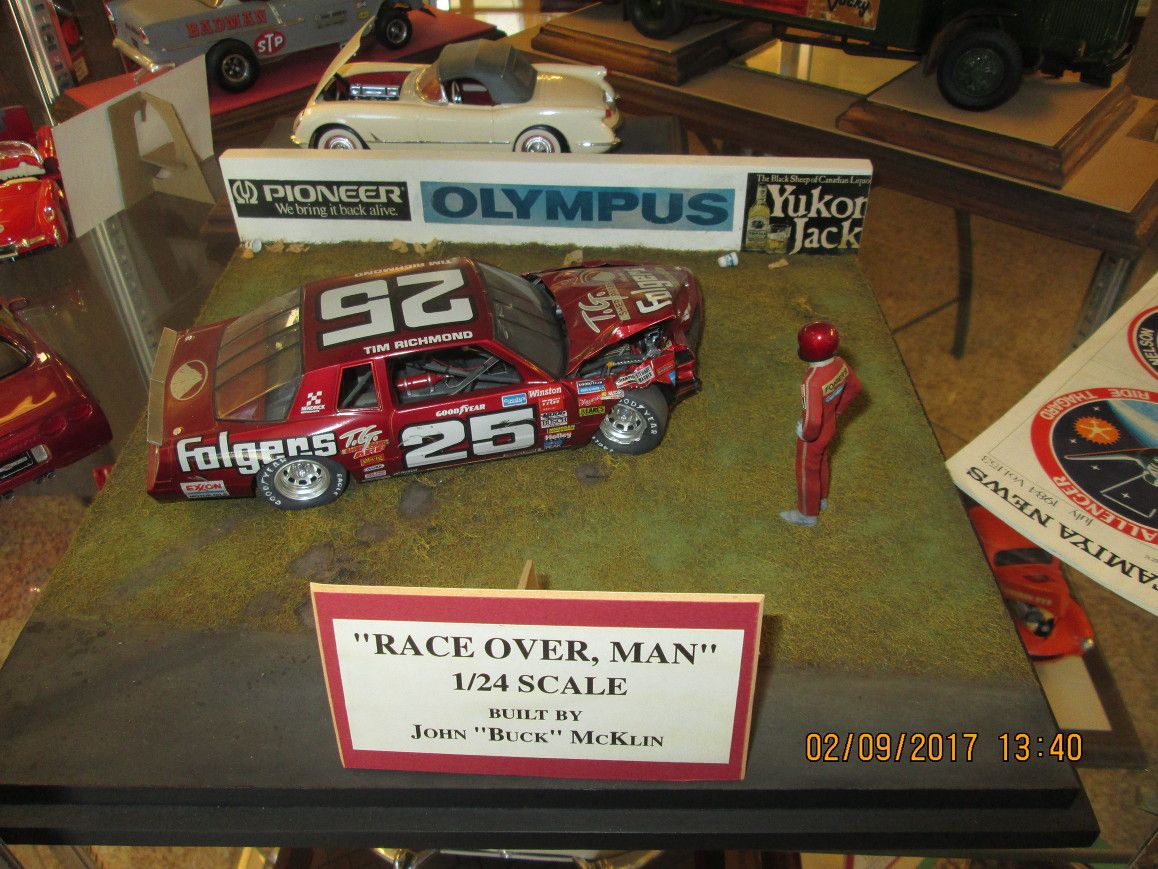 100. Various model cars I have built over the years
Part Five.
More Details.
101. This was built in 1982 to compete in the Phoenix, Arizona IPMS Nationals. It took a first place and Best civilian vehicle. These buses were a common sight it Paris until the 1960s. I actually rode on one in 1959.
102. The other side.
102a The front!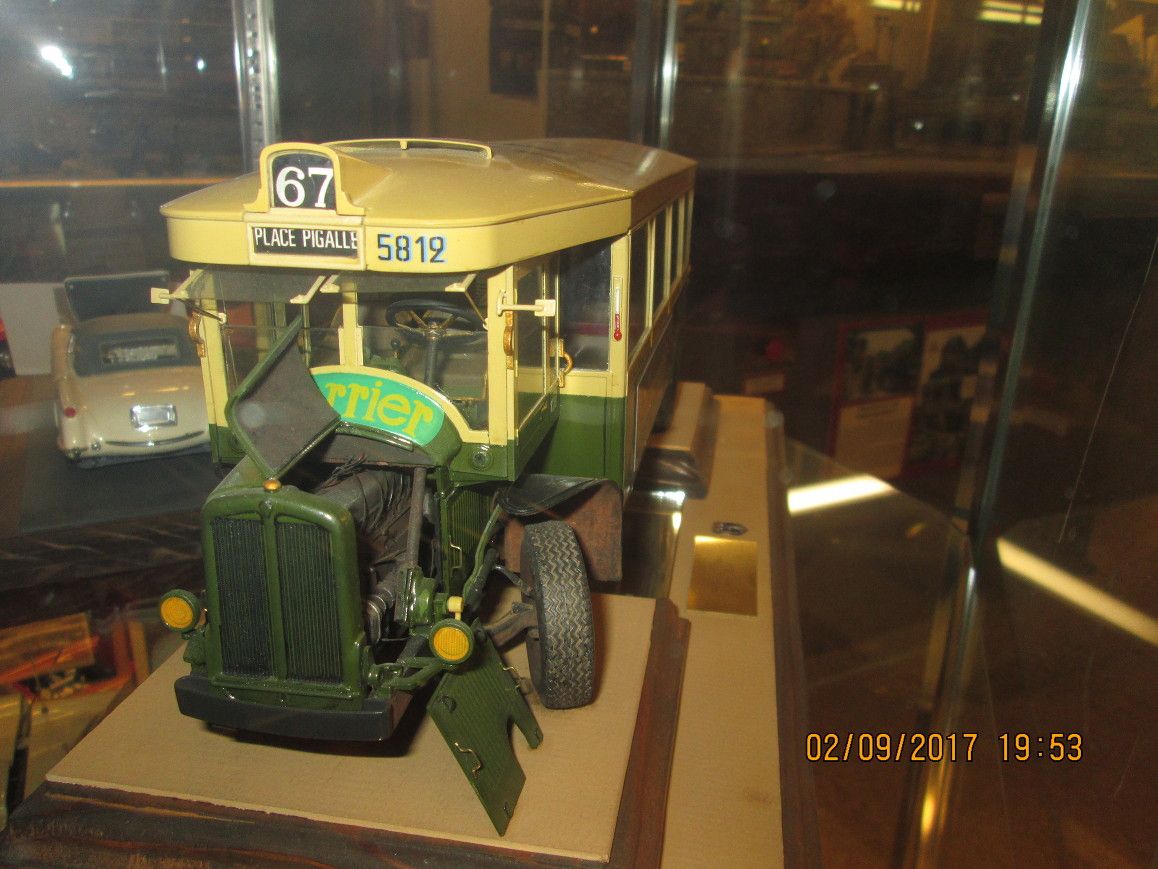 103. A Jaguar XKE in 1/8th scale. The old Monogram kit updated with all working lights, head and tail lights, press the brake pedal and the brake lights come on, switch on the turn signals for either side, horn button honks the horn. Dash lights and flashers work. Interior is upholstered in glove leather, over a thin layer of foam and button tufted. Door windows roll up and down with the cranks, working suspension, and so on.
104. A 1/25th scale Willys Gasser from the 1980s.
105. A 120mm scale War Elephant diorama by Alex Buey from Vietnam.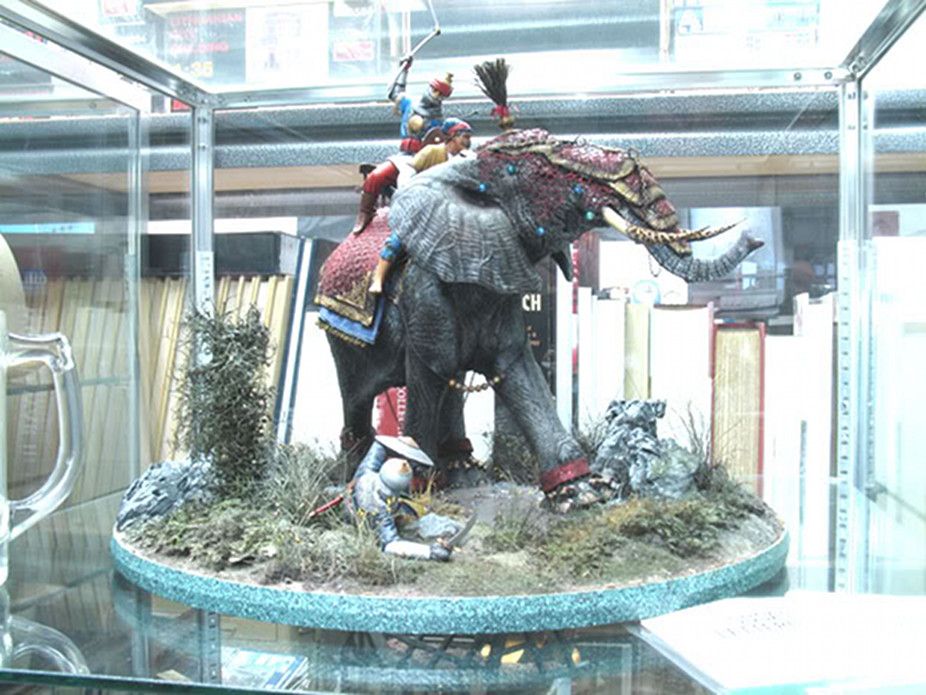 105a. Ditto. Rear view.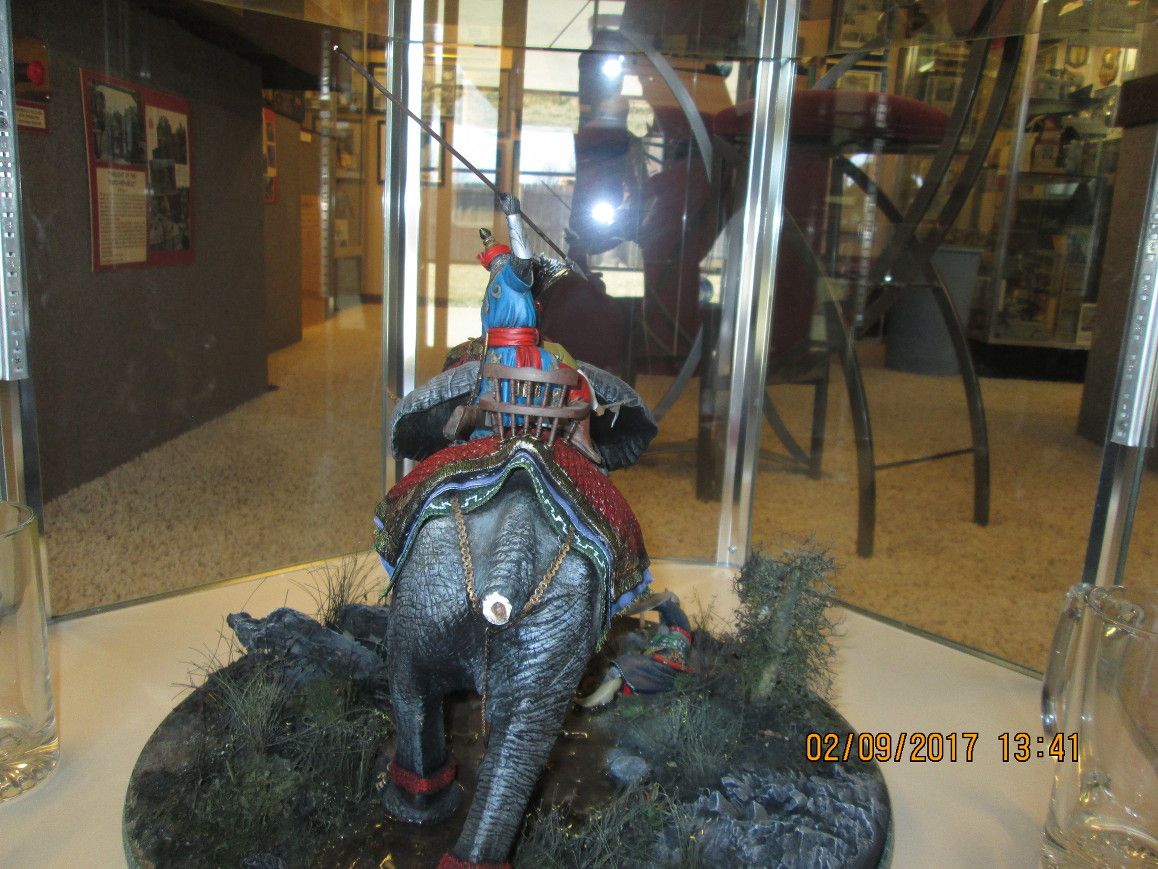 106. A 1/24th scale 1962 Corvette die cast, triple red with fuel injected 283 Cu. in. engine, identical to the one I had when I dated Susan way back in 1965!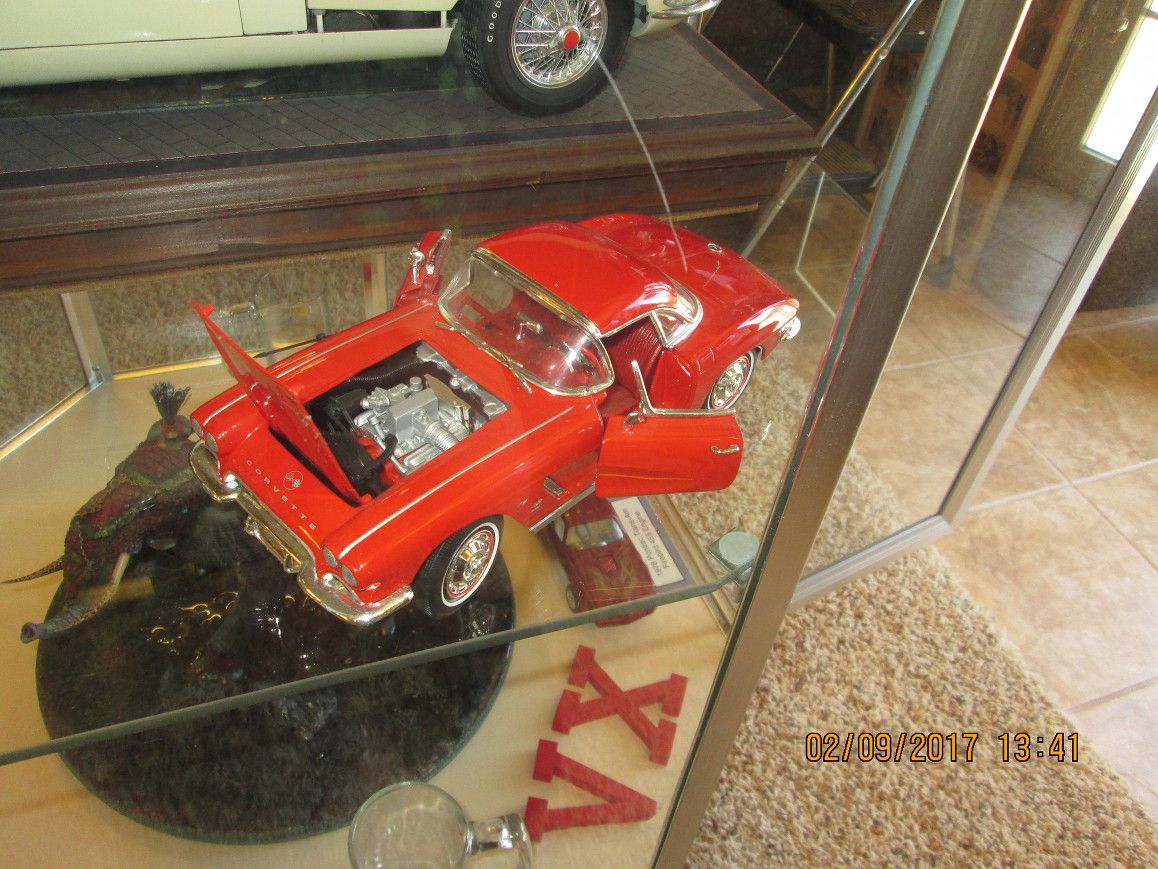 106A. Modelers Alliance' own Eddie Janssens. Eddie and Verlinden were good friends for many years. He still lives in their hometown of Lier, Belgium.
106b. Eddy's son, Luc Janssens, is an avid car modeler. Luc has visited us many times over the years. Here we are in the VLS facility in Moscow Mills. Luc, his wife Dana and son Alexander live in Antwerp Belgium where he works as an HVAC Technician.
106c. Luc and Susan in front of the VLS building, 2005 We have maintained contact with many of the guys in Lier, Belgium, Luc, Eddy, Stephan, Benny, Jean-jaque and Jean-Pierre.
Part 6 Dioramas, cops stuff and stuff to hang on the walls.
107. This is my current project, about 60% finished. It is central Germany in March of 1945 nearing the end of WW II as Patton's Third army races through Germany. It will feature 360 figures and 50 vehicles in 1/35th scale. The subject will be General Patton, directing traffic in a snarl at the convergence of intersecting streets. One column of tanks of the Fourth Armored Division and the other column, the XYZ Express, a later and much larger version of the more well known "Red Ball" Express. It will have over 100 civilian refugees moving toward the rear lines and will be extremely busy. I call it "Logistics"!
108. Ditto.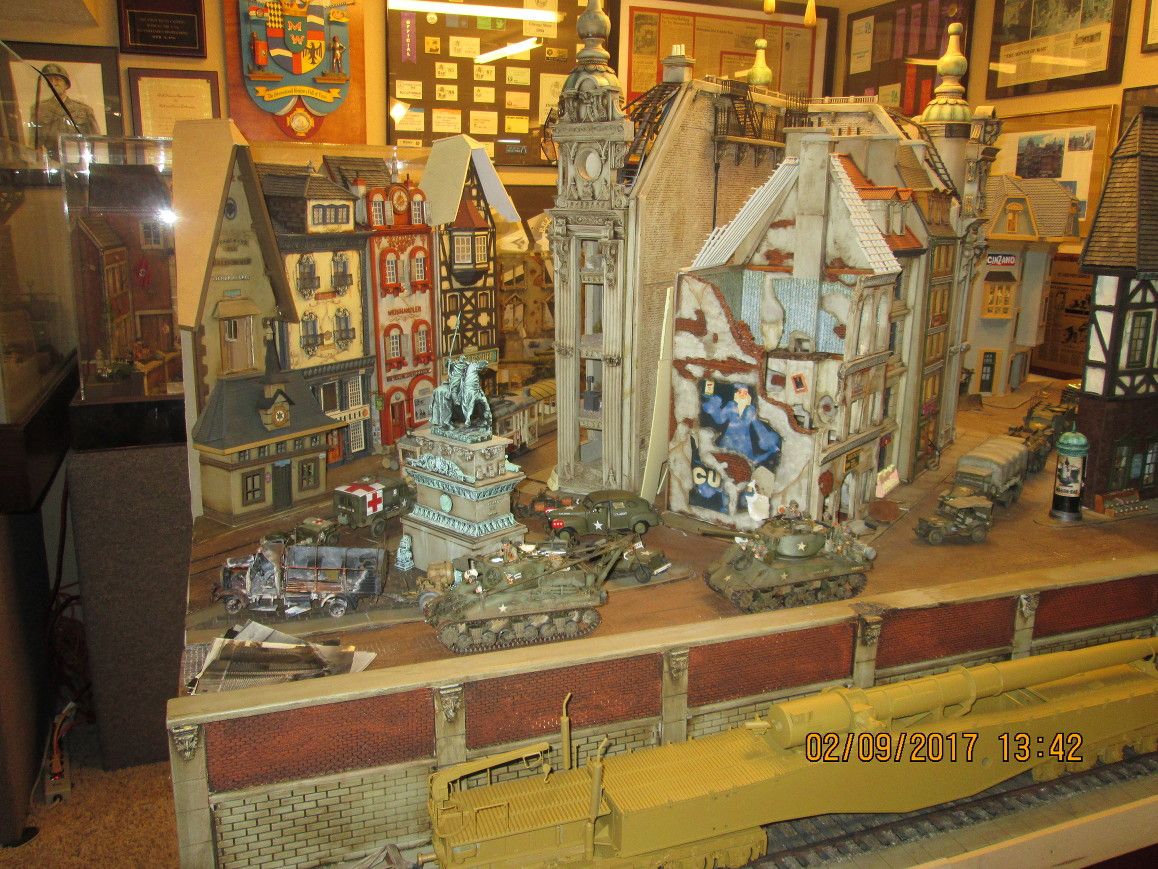 109. Ditto.
110. Ditto.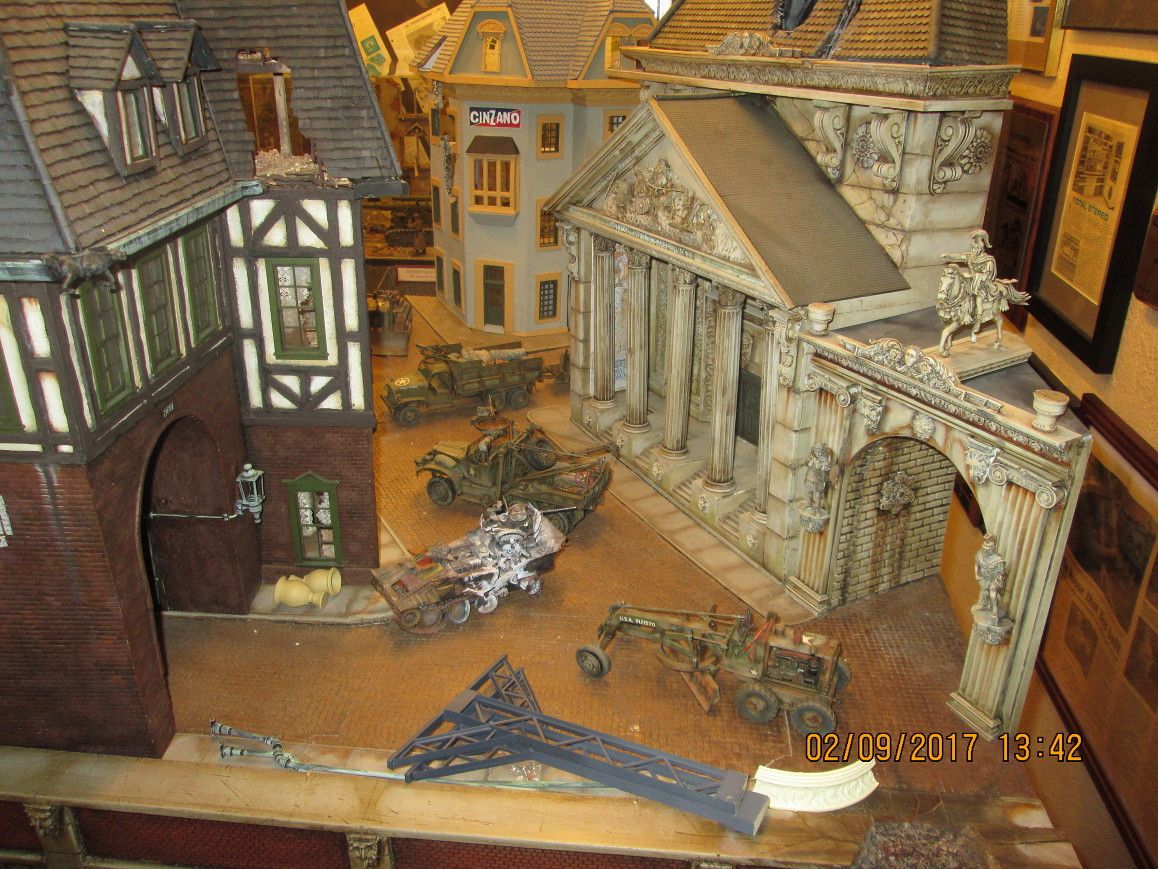 111. Ditto.
112. Ditto.
113. Ditto.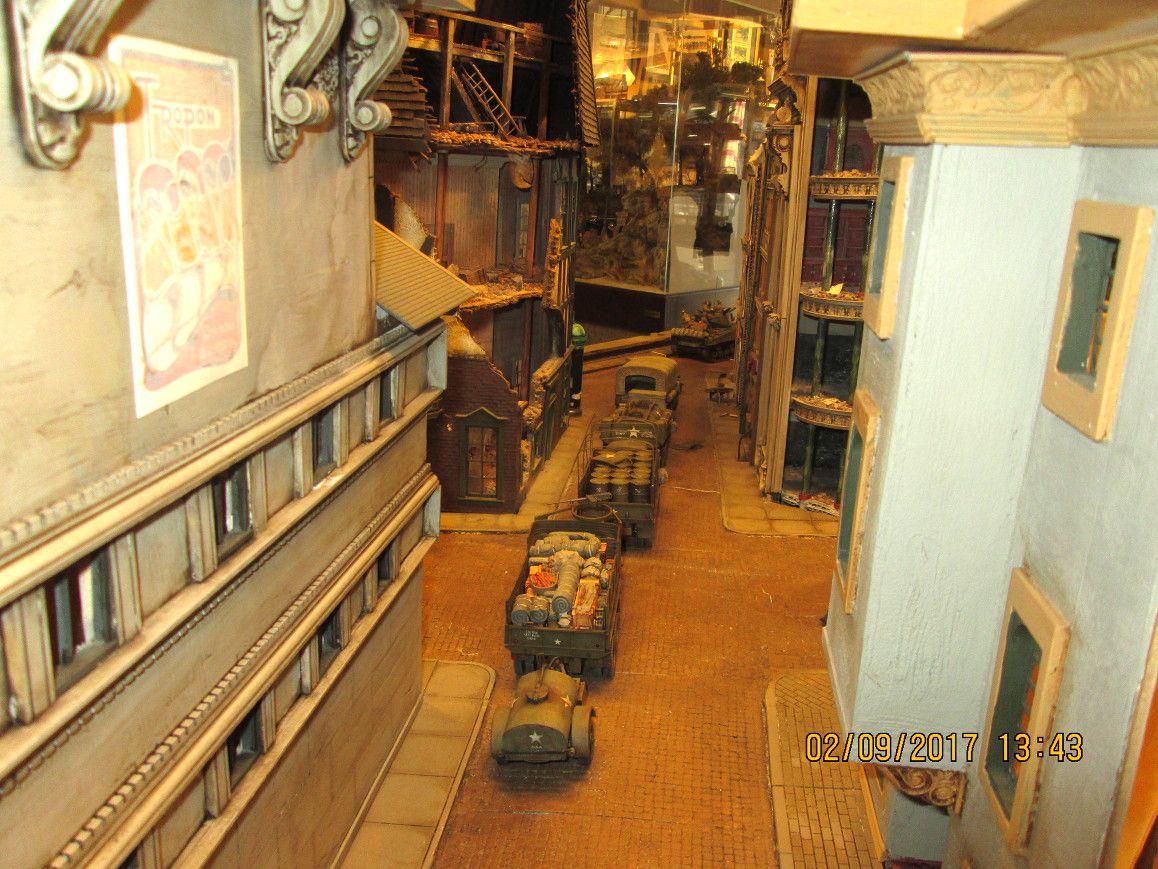 114. Ditto.
115. An old diorama, "Pierpont's New Truck", I built at the end of 1982. A Texaco station with a New Mack Truck. Inside the garage is a Chrysler convertible. From scratch antique gas pumps. I used "Sorry" pieces to make them. I was experimenting with photo-etch for the first time and several other new techniques I had developed. How to books were as rare as hen's teeth back then. You had to learn techniques through trial and error, mostly error!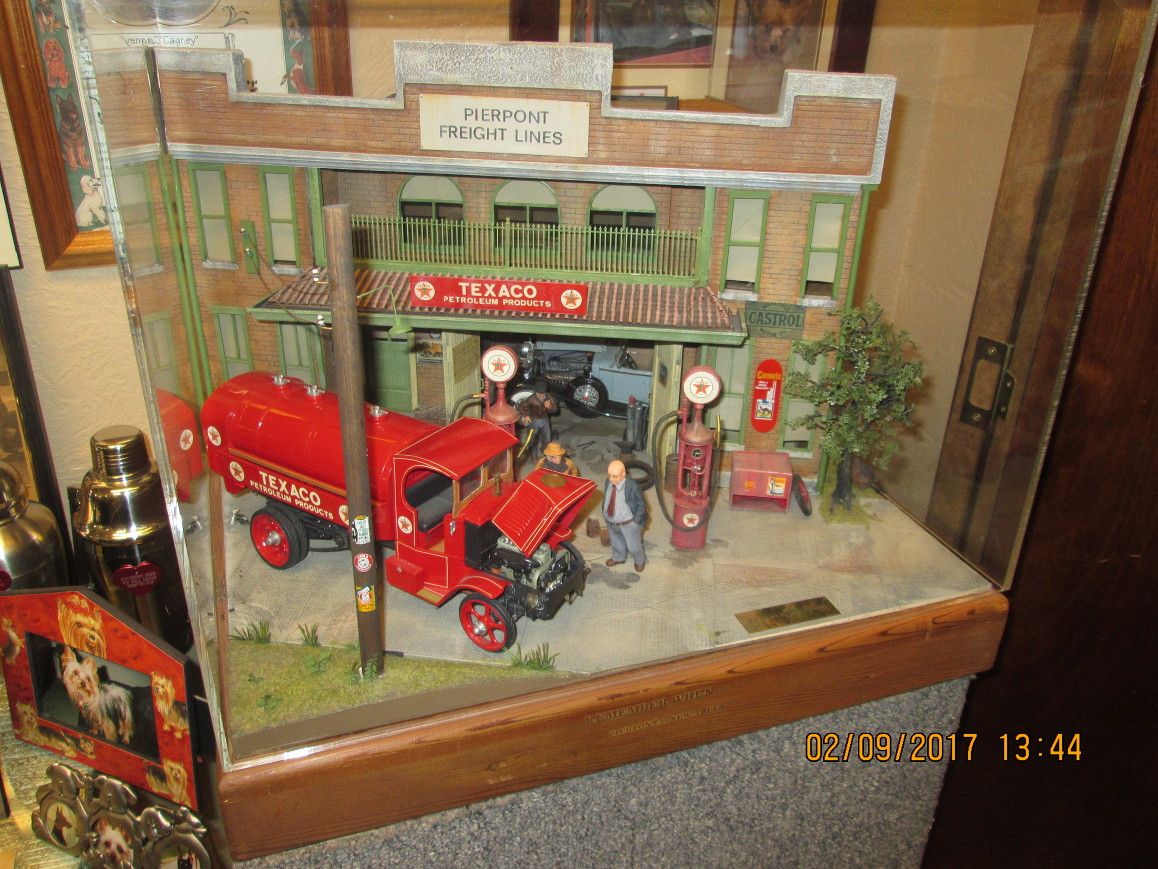 116. Ditto
117. My partner in the commercial Museum in St. Charles, Miniature World, When we were putting together the first version of the museum, His wife, Rosemarian, who was 92 at the time, painted each one of us, Ralph and I, to hang in the museum. Ralph died back in 2011 at age 95. Rosemarian taught classes on painting until she was 97. She passed away two years ago. To the left is one of the two framed currency displays.
118. One of two framed currency displays from mine and Susan's foreign travels.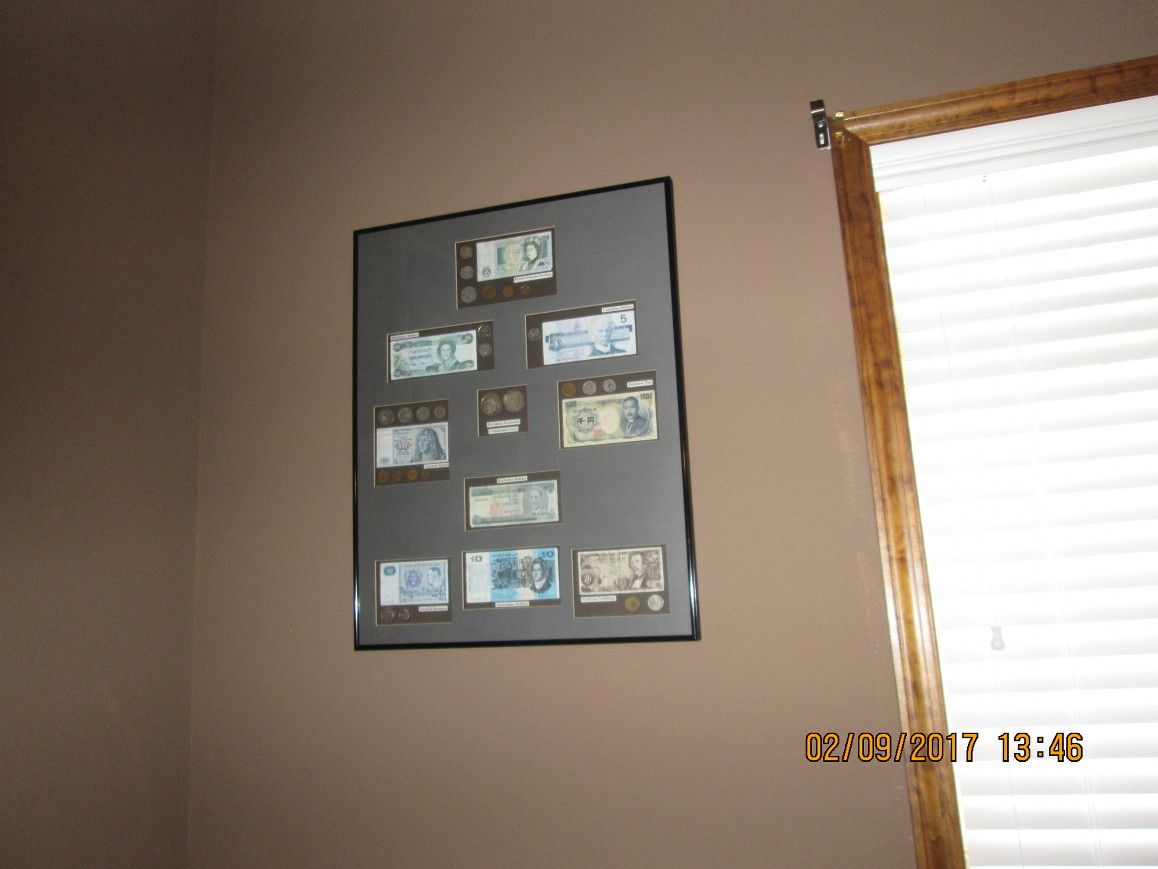 119. This poster for the movie "U-571″, starring Mathew McConaughey, was due to one of the girls in the sales department of VLS. A Hollywood studio called in an order for some miniatures they needed for props and struck up a conversation with one of our sales girls Becky Domecello. She asked the purchasing agent if he was on the set of the movie at that time. He answered yes and said Mathew McConaughey was sitting in the chair next to him. She asked if she could get his autograph, he asked McConaughey who said sure, He asked for her name, he was a frequent customer and when the poster arrived, there was one for her and one for me that he wrote, to Bob, and signed his name. It is in the upper left hand corner.
120. Susan has collected Elvis and James Dean figures for years, and a lot of figure sculptors and painters have given them to her. She has around 35 or 40 altogether, but these three are her favorites. Left to right, Elvis classic by Bill Chilstrom, and James Dean on the "Giant" set, also by Bill Chilstrom. Then the Jailhouse Rock Elvis sculpted and painted by modelers alliance's own Joe Hudson.
121. Gas Pedal Stuck, Bob Letterman, 1992. Cop stops speeder. The two figures are the identical originalsI conv erred one to a Hollywood Player, the other to a highway patrolman. If you look at the break on the violators and the Trooper's trousers, you can see that are the same figure.
121a. Ditto.
122. Police awards, magazine articles, citation from the American Legion, 1967. The bowling trophies are model awards from the early 1980s.
123. Commendations from the Drug Enforcement administration, (DEA), the Prosecuting Attorney's office, the F.B.I., and the Alcohol, Tobacco and Firearms agency. (ATF).
124. Various awards from the police department and the Internal Revenue Service, I made cases on some heroin dealers the same way they got Capone back in the 1920s.
125. More awards, Officer of the year, 1973, etc. There were 5000 police Officers in The Metro area. Occasionally, this organization chose one Officer to receive this award. You could only receive it once.
126. Newspaper and magazine articles from the 1970s. On the left are department awards that came with medals and ribbons, much like the military.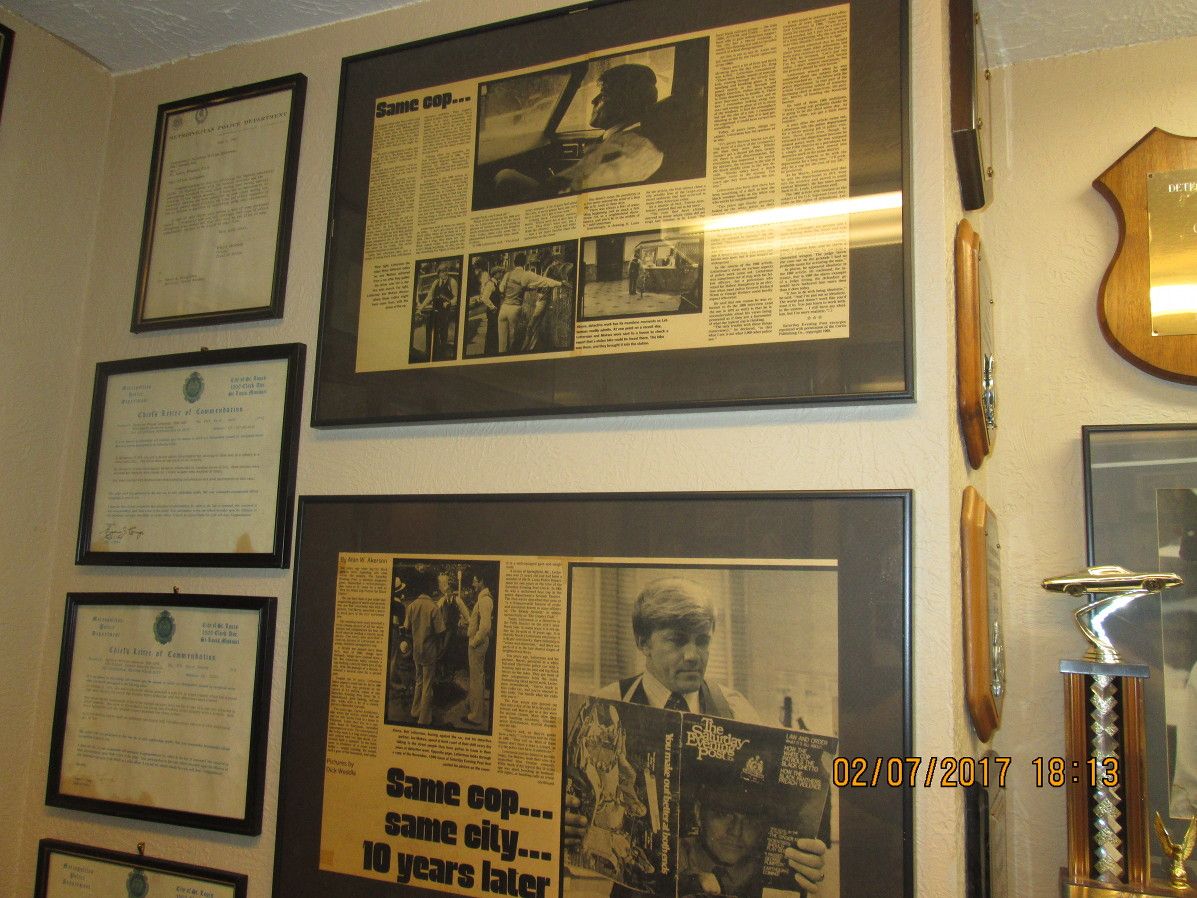 127. More newspaper articles, Letters of Commendation, medals, etc.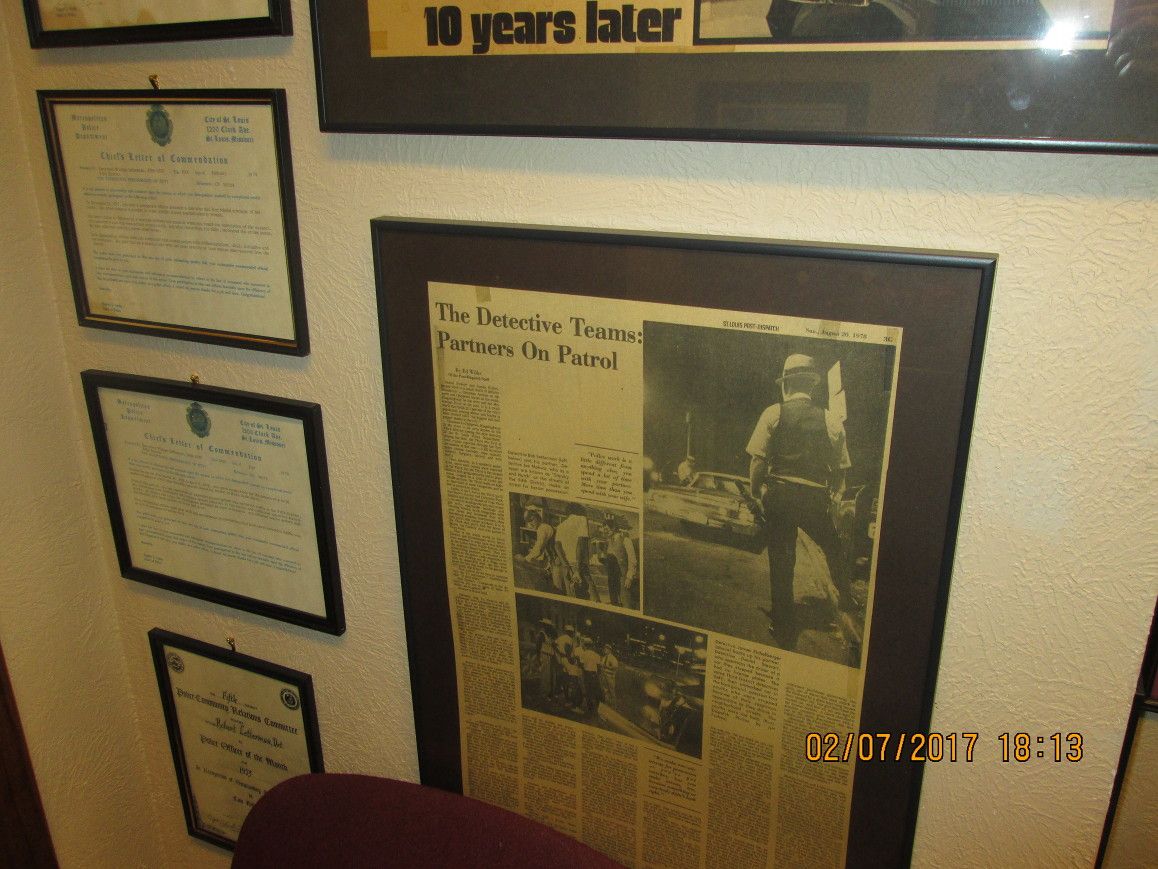 128. Various Police academy graduation certificates, class photos.
129. All about our dogs, we have had 13 of them in our 51 years of marriage. Four German Shepherds, Two Cockapoos, Four Doberman Pinschers, a Dachshund and Two Yorkshire Terriers.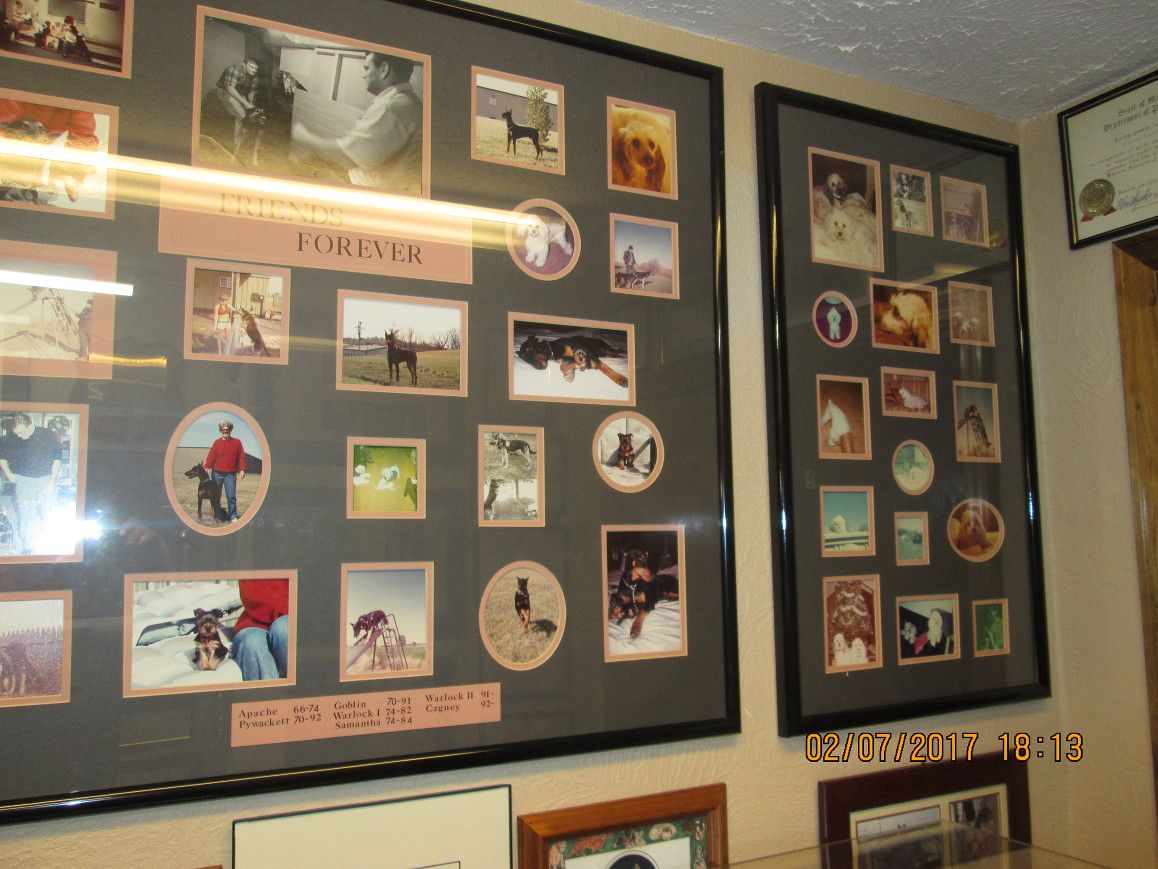 130. Ditto.
131. Ditto!
132. Ditto, plus training certificates, awards from the American Doberman Society, etc. In the center is a newspaper article with Susan receiving the Heroic Dog of the Year from the Humane Society for her white cockapoo she is holding in the photograph. In 1981, lightening struck our house and caught it on fire while we slept. The dog woke us up with his incessant barking and wouldn't stop. I finally got up and when I opened the door of the bedroom, there was a pitch black wall of smoke! When that was in the newspapers, one of my buddies said, "Holy Crap, even your dogs get awards"!  
134. IPMS National awards 1984.
135. Graduating classes, out takes from magazine articles, etc.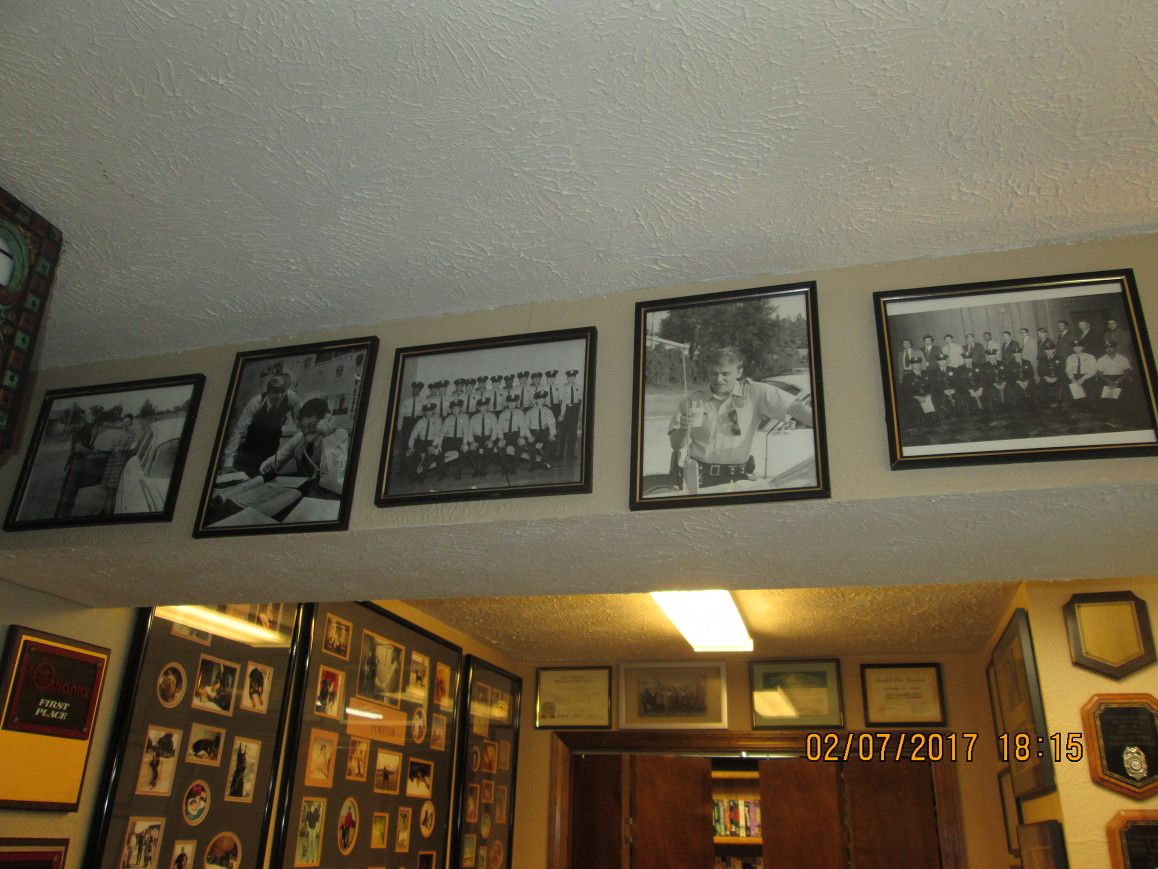 136. Susan and I, 1967, after I graduated from the St. Louis police academy. Various model awards, magazine covers, etc.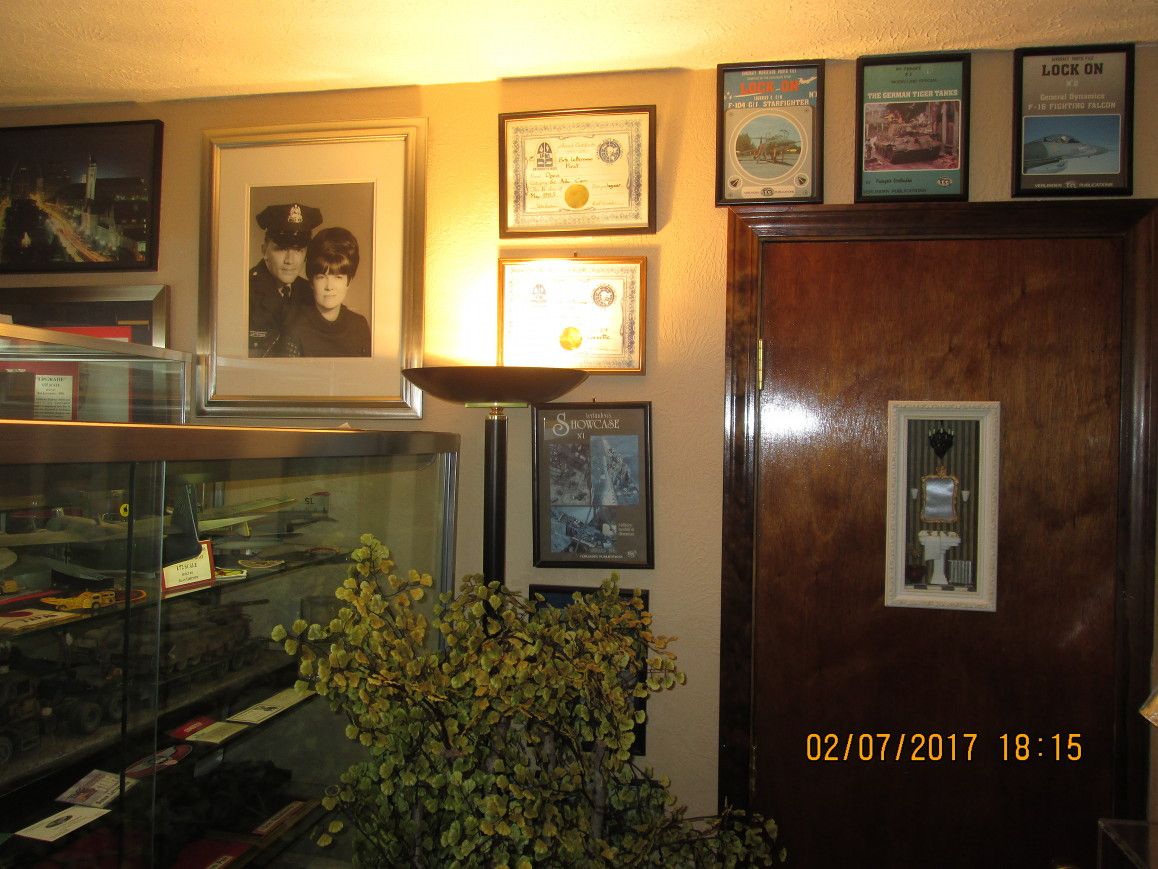 137. Book and magazine covers, VLS memories, various buildings as we expanded, the employees, etc. More model trophies. An article from Fine Scale Models, announcing the opening of Miniature World museum which they attended. 1993. All the model awards you see in this post are from 1982 when I first competed until the spring of 1985, when i retired from competition completely. I have never returned and never will.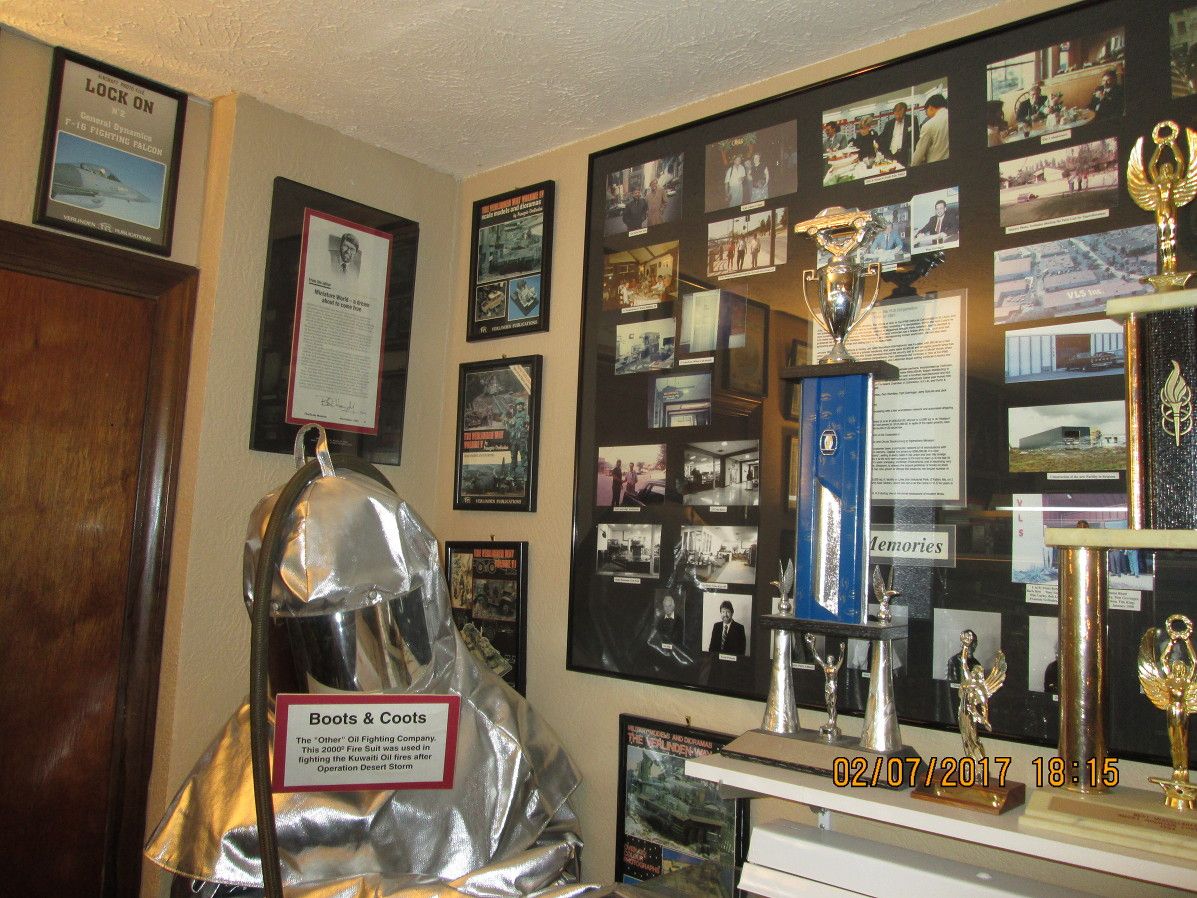 138. More of the same. Also, some very old newspaper clips from 1967 when i won the F.W. Woolworth's national model car contest at 27 years old. There were a hundred thousand entries. I won first and third place. Cool at the time as there were thousands of dollars of prizes involved including a new motorcycle! Photos of Verlinden in his hobby shop in Belgium, 1984, Shep Paine in the 1970s, etc.
139. Ditto.
140. Newspaper article about VLS, etc.
141. Old trophies from the 1980s.
142. Ditto.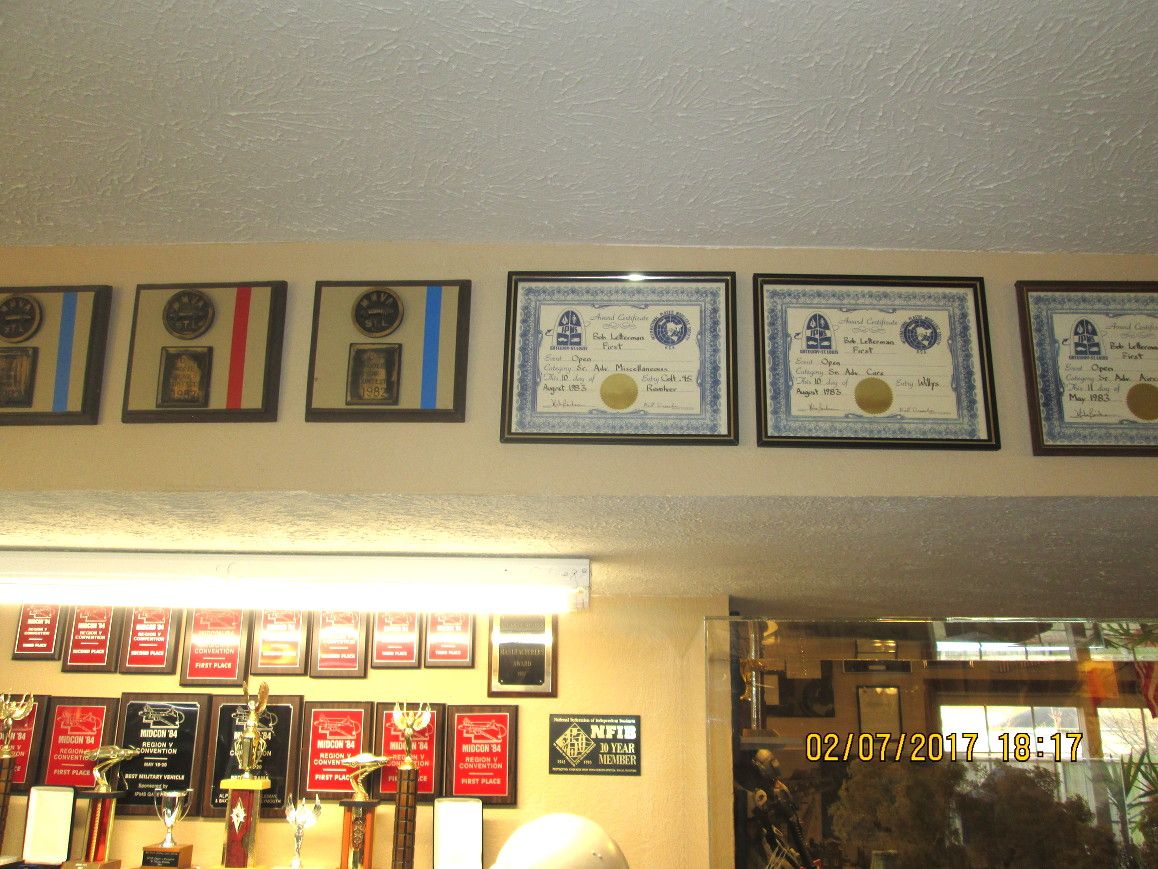 143. Ditto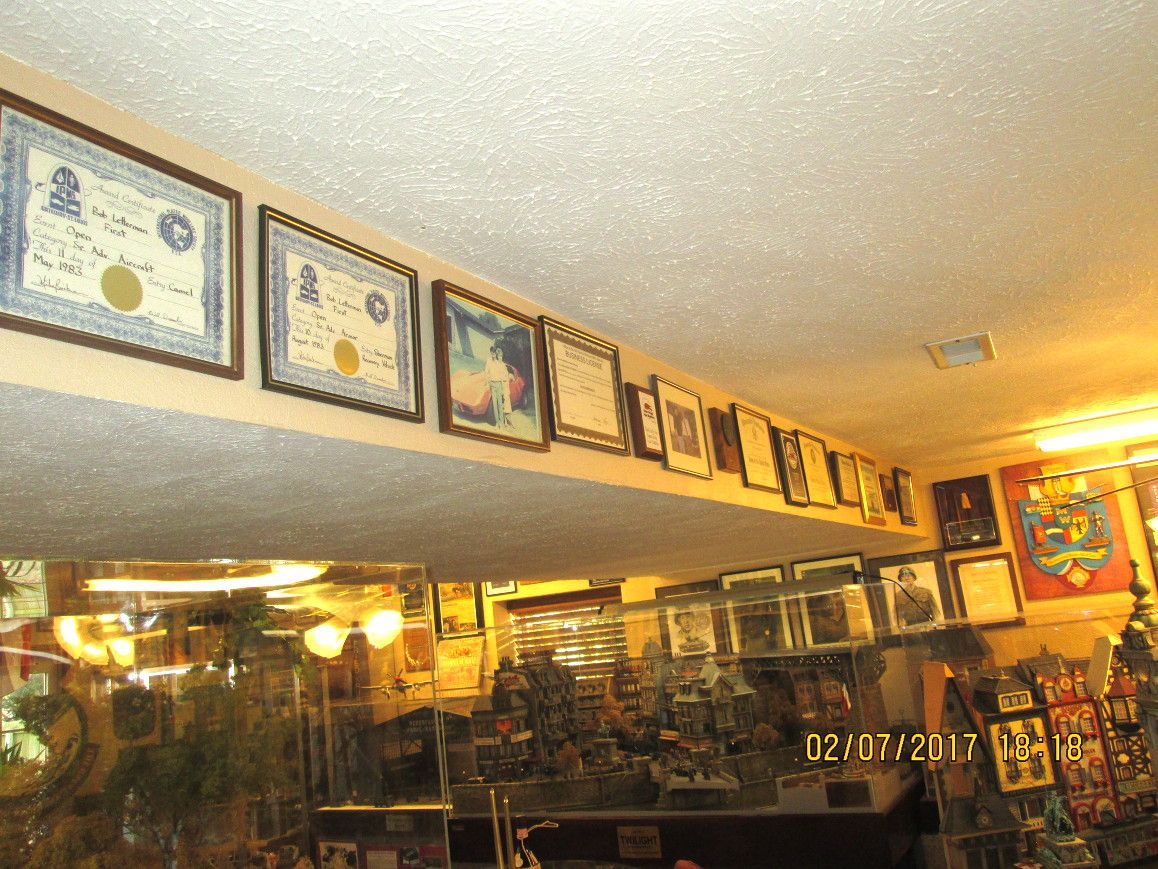 144. The original VLS Logo, changed in 1996. Articles, model awards, VLS awards, etc.The plaque above and to the right was when St. Louis County presented VLS with the "Employer of the year" award. It was for hiring handicapped. We let them train in production as the regular employees supervised them. That became a practice throughout the following years. On the far right is a vertical column of newspaper articles about the Museum.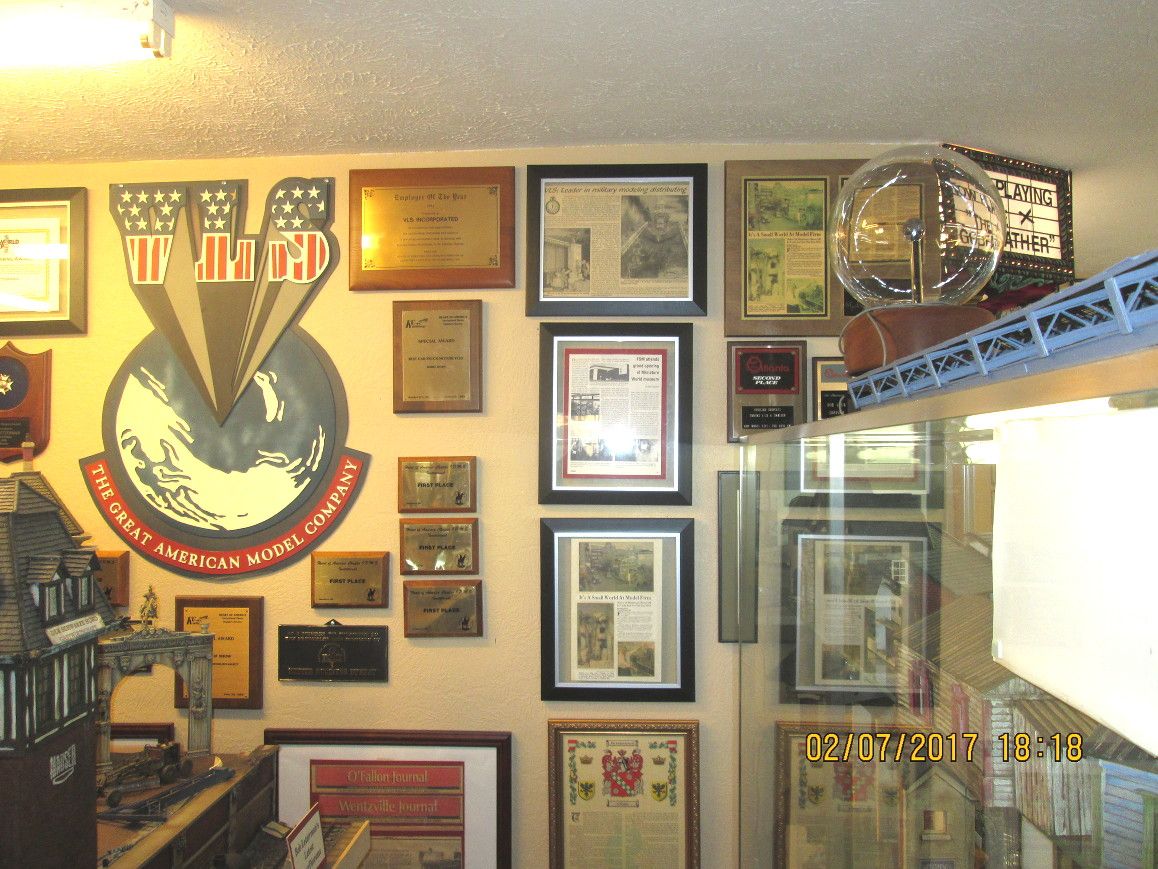 145. Ditto.The original logo was a joint effort. I designed it and Wes Bradley created this great replica using matt board. That was really a great job he did!
146. Ditto, the Lifetime Achievement award from Shep Paine's World Expo, 2005 in Boston, Massachusetts, etc.
147. Various VLS awards, Museum awards, Model awards, etc.
148. Some of my most valued awards. The gold medal and the photograph of me receiving it from Lord Romsey, the 8th Baron Brabourne, best friend of Prince Charles and who has the reputation in England as a playboy. He is also the grandson of Admiral Lord Louis Montbatten, Viceroy of India. In 1984 at the largest model show in the world, the Model Engineer's exhibition at Wembley exposition center north of London. The medal is solid gold or so I have been told?, Only two Americans have been the recipients, Loren Perry of model ship fame and me. On the left are articles about my dioramas published in Japan, South Korea and China. Susan and I at the Shizouka Model trade fair in Japan. There are so many of these kinds of things in the museum, some wonderful, awesome memories!
149. Various name tags for shows all over the world.The U.S., Europe, Asia, Canada and South America. Plus more magazine and newspaper articles. Below are various designs of the VLS Newsletters over the years.
150. More awards, a very special plaque, created by Don Kanaval, one of the great artists in the modeling world. He made it commemorating the opening of Miniature World Museum in St. Charles, Mo, back in 1996. Don could do anything if it had to do with art! Then a resin part commemorating the first resin casting to come off the line of Verlinden Productions in America. May 12th, 1996.
150a. In the VLS Conference room. Bill Chilstrom, Dave Harper, me and Luca Marchetti, who owns Pegaso Models inSiena, Tuscany, Italy. Luca, his wife Lilly, and a couple of his sculptors came to several Mastercons, then stayed at our house for a visit afterwards.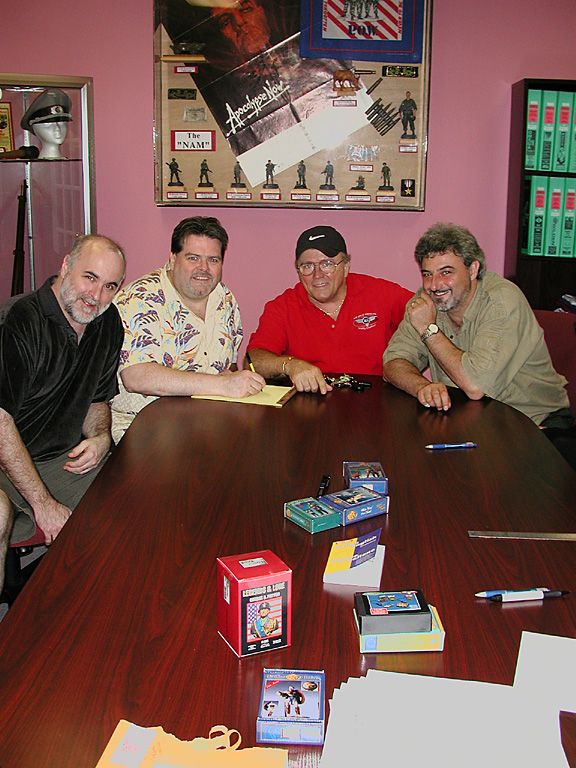 150b. Here is Andrea Jula of Pegaso Models giving a seminar at a Mastercon.
150c. Here is Andrea and Pietro, both of Pegaso Models.
150d. Hal Sanford, (L), and Jim Patrick at eagle quest 2008. Both are from the Old Guard Masters from VLS.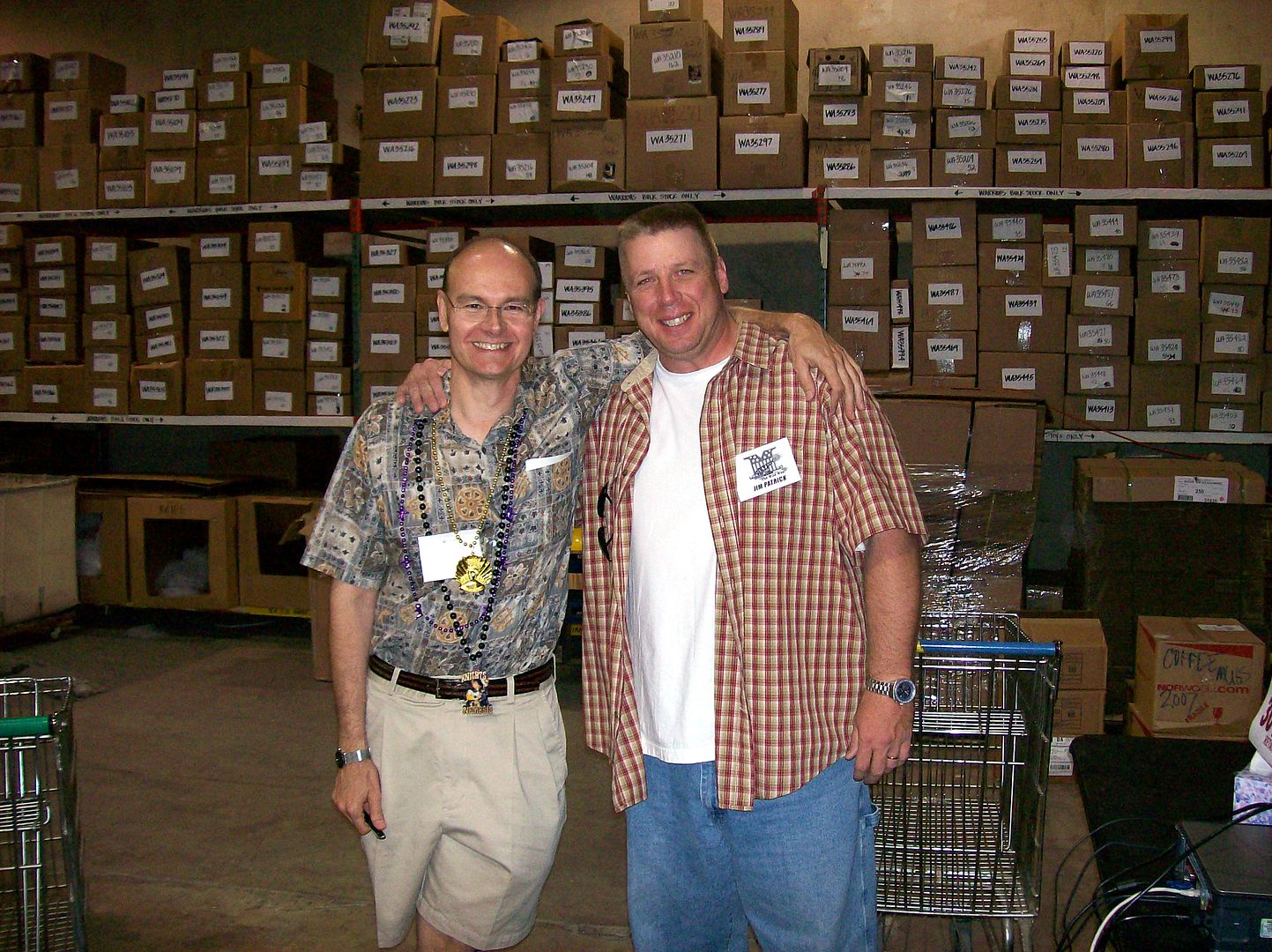 150e. I was honored to be guest of honor at the IPMS Nationals in Kansas City in 2005. I brought some of my dioramas and they set up an area to display them.
150f. Modelersalliance's own John Bowrey at an Eagle Quest awarding a modeler. Behind John is another MA member, Gil Gonsoulin, (L), and Fritz Swanson. Both Fritz and Gil attended the very first Mastercon.
150g. Squadron,s Richard Polson, awarding the Tamiya award to Pat Hutchens at Mastercon 15.. Richard worked for Tamiya America before going to Squadron. Pat Hutchens was one of the original Old Guard at Mastercon.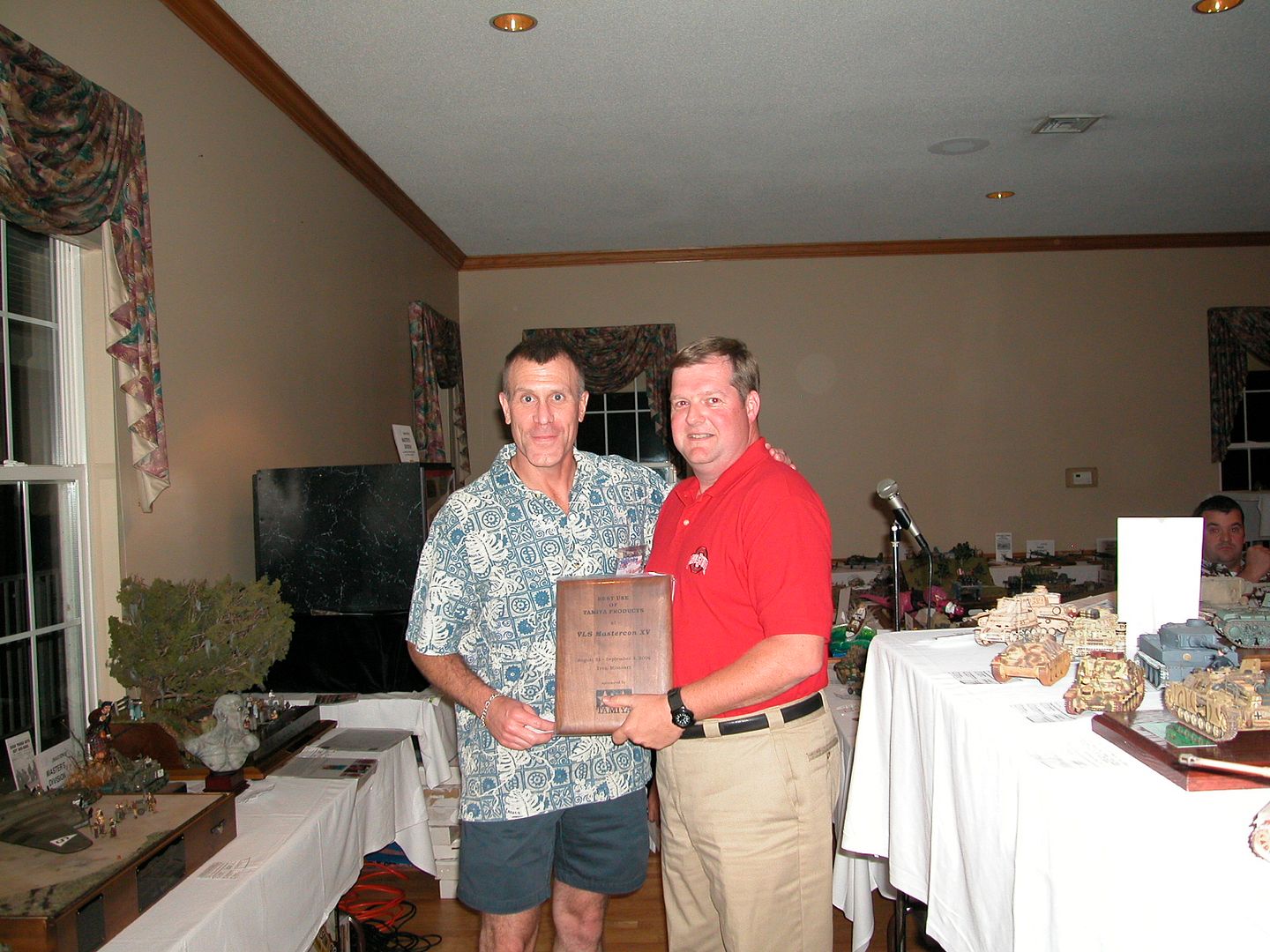 150h. Me giving Dan Tisoncik a couple of awards at Mastercon 14.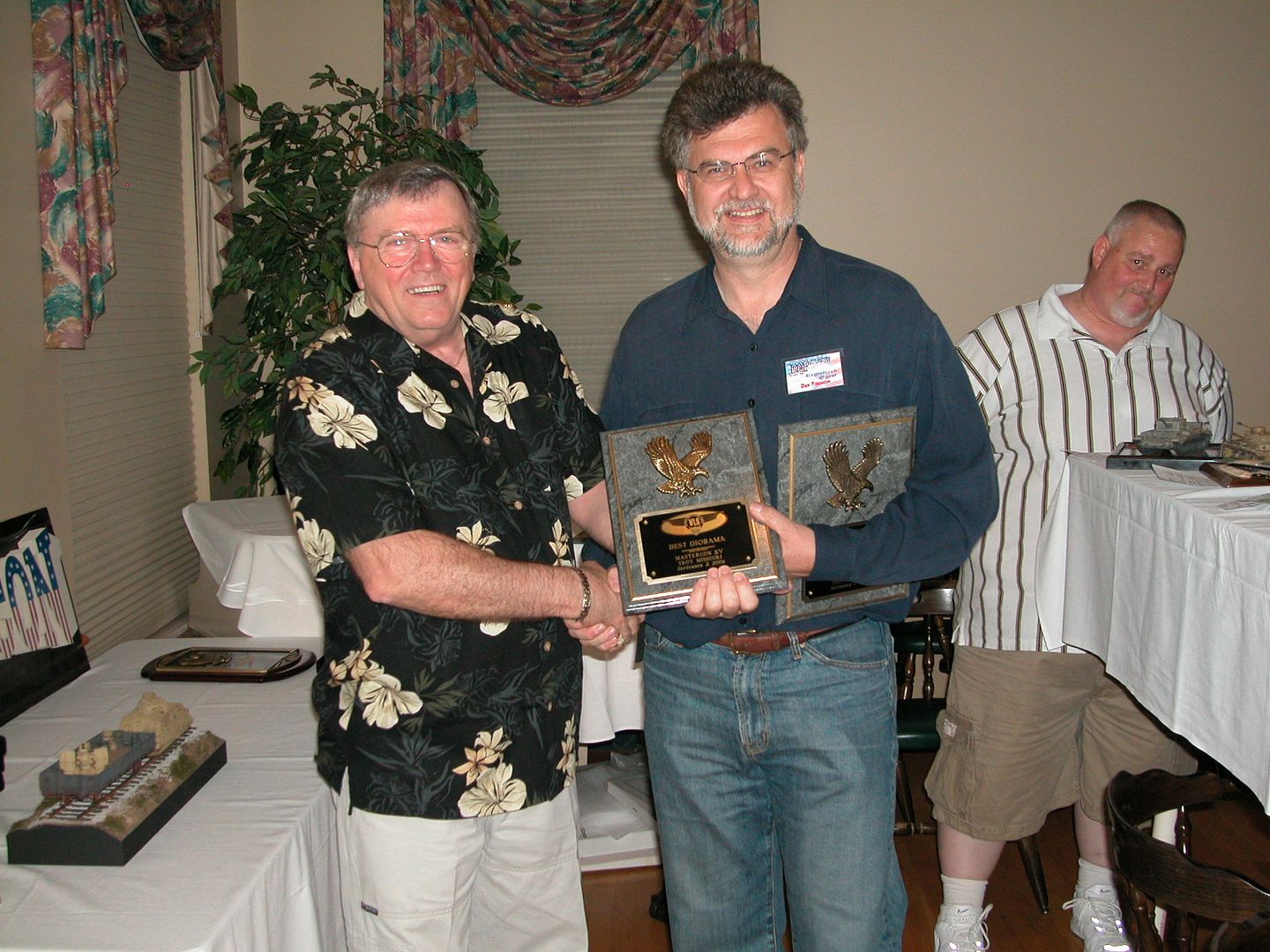 150i. Me going over old times with Jef Verswyvel at the Kansas City IPMS Nationals in 2005.
150j. Every saturday morning during Mastercon, we opened the warehouse to the attendees. It was always a mad rush. As soon as the door opened, in came hundreds.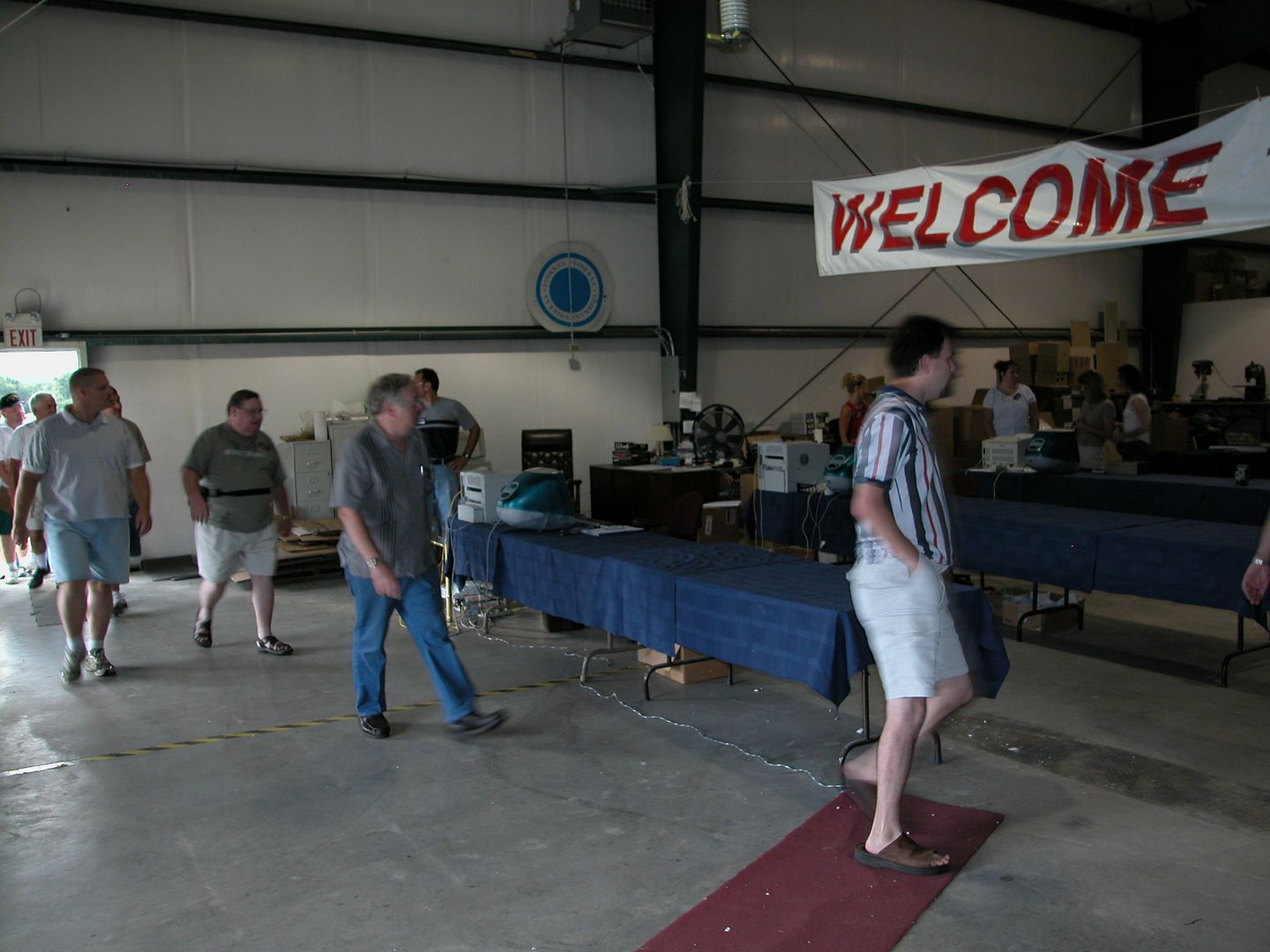 150k. We usually had four or five check out lanes set up. This one manned by Julie Noah.
150l. Heidi Hogan was checking out customers in this lane. That's Alleyn Kinney spending his hard earned dollars. Each convention we gave an award to the big spender that year. I remember the most ever spent at all by one person was almost $6000 dollars! The normal take for a warehouse sale back then was around $70-80 thousand. It was four hours long!
150m. Since retiring, we have kept in touch with most of the former employees. This is Kamini Bhatt, from India. VLS was her first job after immigrating here. She handled all the accounting for about seven years. This was taken at our home in Troy, Missouri a couple of years ago.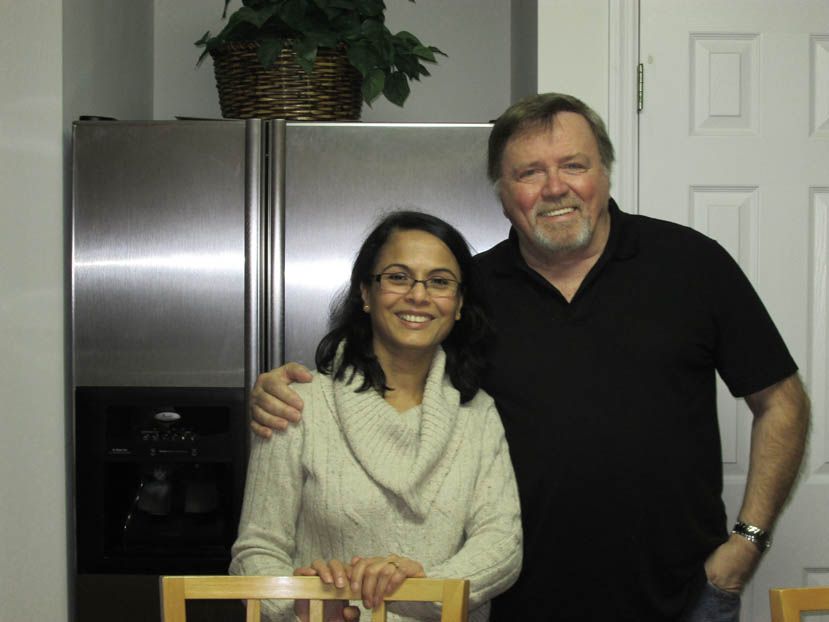 150n. In 2008, we had a VLS reunion at our house. Pictured here are Herb Rigg, Wes Bradley and Jerry Schulte and his wife. we had a dozen for an outdoor barbecue.
Continued in Chapter 3